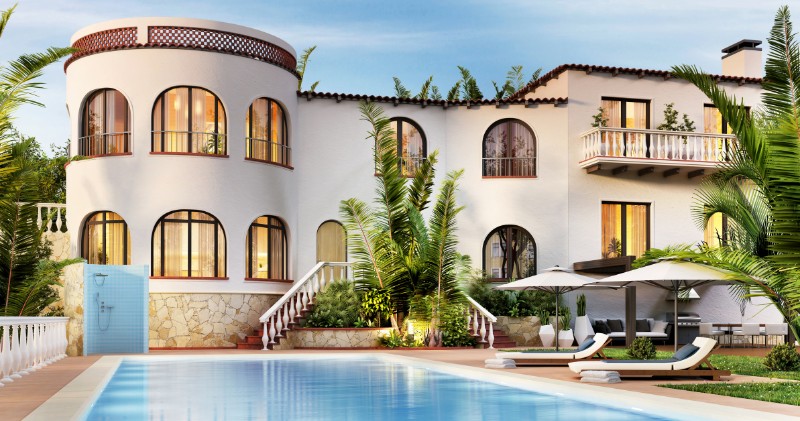 Looking for luxury homes for sale in Las Vegas? To find out exactly what to look for, let's take you on a tour of the many designs and outstanding features that define Las Vegas' luxury homes.
MEDITERRANEAN
A Mediterranean-style home effortlessly brings a touch of Southern Europe to any setting. Terracotta-tiled roofs, stucco walls embellished with elaborate arch designs, romantic balconies, and charming mosaics adorn this stunning abode. Wrought-iron details enhance the interior and exterior, while open floor plans promote airflow and creativity. Courtyards and pools complete this European design.
PUEBLO
Originally found in the Southwest, pueblo-style dwellings are characterized by their simplicity and cultural influences. The angular structures, modeled after traditional Puebloan multifamily dwellings, are suitable for housing large families. They're built with adobe or modern materials such as concrete or stucco to provide shelter from the Las Vegas sun. Ceiling beams, heavy doors, and center courtyards add texture and architectural flair. Flat or sloping rooftops with parapets complement the overall design aesthetic.
RANCH
Ranch-style homes were introduced in the 1950s and remain popular today. Many ranch-style properties in Las Vegas have L-shaped floor layouts and one-car garages, while modified homes may have two or three-car garages. These dwellings are defined by their low-pitched gable roofs and deep-set eaves. An open floor plan with few interior walls offers an airy ambiance, allowing for innovative interior design possibilities.
SPANISH
These homes exude European charm while maintaining a relaxed and comfortable atmosphere. Taking a cue from Mediterranean and Moorish influences, these Spanish-style homes are designed for entertainment. The exterior features stucco walls, tiled roofs, and a tower for a romantic touch. Balconies with wrought iron add even more appeal. Spanish-style homes are popular among Las Vegas property owners because they exhibit warmth, comfort, and a captivating Spanish flair, on top of providing better ventilation to the interiors.
SPLIT LEVEL
This multi-level variant of the Ranch-style home was first seen in the 1950s on the TV sitcom, The Brady Bunch. There's a large floor plan with an attractive eat-in kitchen and a possible formal dining area. The spacious and comfortable family area makes it a great place to relax and entertain. The bedrooms over the garage provide a distinctive touch to split-level homes by providing additional relaxation places. In Las Vegas, this architectural design evokes family stability and a high quality of life.
TUDOR
It's easy to imagine medieval European villages when you see Tudor-style homes. Stone or stucco exteriors, steep gable roofs, and ornate chimneys make these dwellings stand out among other properties. Exposed timbers add a distinctive touch to both the exterior and interior. Tudor residences have L-shaped and H-shaped floor plans, as well as brick, stone, and timber features.
TUSCAN
Tuscan-style homes in Las Vegas are genuine masterpieces of Italian elegance with stunning stucco exterior walls and stone embellishments that create an elegant rustic appeal. Painted in earth tones and adorned with simple windows, these dwellings bask in natural light. Courtyards and terracotta accents that mimic Spanish designs add to their allure.
Familiarizing yourself with the various architectural types in Las Vegas can help you narrow down your search for luxury homes that meet your individual needs and preferences. Moreover, understanding the market trends for luxury real estate in 2023 will allow you to make a more informed decision. Let me, luxury Realtor Anthony Romeo, help you navigate the competitive Las Vegas housing market. Call 702.353.6759 or send an email.