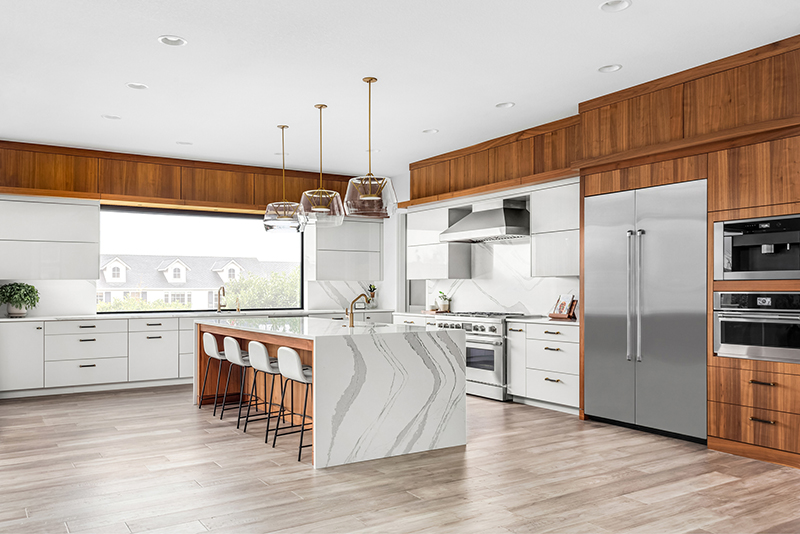 One of the first places most luxury home buyers look at is the kitchen. Considered the heart of the home, the kitchen is one of the living spaces where family members converge the most. Luxury kitchens, particularly, provide more than just the usual venue for cooking and dining – they're also where you'll find design elements that perfectly combine form and function in a deluxe package.
Let's check out this list of modern kitchen designs that not only spell elegant luxury but also excel in bringing optimum performance to your culinary endeavors.
MAGNIFICENT MARBLE

Marble used on countertops, backsplashes, or even flooring can instantly boost your kitchen's appeal. The details on the stone itself are mesmerizing; accent it with gold trimmings and it takes opulence to a whole new level. Other good combinations would be to pair marble with neutral shades like white or gray.

WINE CONNOISSEUR'S CORNER

Love wine? A wine fridge is just what you need apart from your standard ref. Place it in a corner, along with a shelf of your finest goblets for an easy shot of your preferred spirits while lounging at home.

ISLAND OF ELEGANCE

A gourmet kitchen is not complete without an island. Extremely functional, its surface can be used not just for preparing raw ingredients for cooking but also for setting down food for a quick bite. It can even serve as an extra workspace when you multi-task between cooking and looking after the kids' homework. As a rule, your kitchen counter and island should have the same materials so as not to break the overall aesthetic. For larger kitchens, a second island could be a wonderful and useful addition.

LIGHTING FOR FORM AND FUNCTION

No other space could compete with a kitchen in terms of lighting requirements. This space should have more than enough light, not just to give you a better view of your cooking tasks but also to add the luxe in your luxury kitchen. Overhead chandeliers can provide ambient lighting, pendant lights illuminate your kitchen island, and under-cabinet lights give a soft glow for a chic and elegant look.

SPACE: THE ULTIMATE LUXURY

A kitchen that gives you ample elbow room to move around with extra space for other family members is a luxury to behold. This could be achieved with multiple storage solutions and maintaining an uncluttered space.

A high-end modern kitchen isn't just a cooking space – it's an experience. Every choice, from materials to layouts, contributes to this experience. So, it doesn't matter if you're a seasoned chef or simply someone who enjoys whipping up something to eat, the ambiance of a well-thought-out, opulent kitchen amplifies the joy of culinary adventures. Embrace these ideas for a luxury modern kitchen and watch it transform into a living space of elegance and functionality.
Considering a luxurious home in Vegas with a dream kitchen to match? Top-notch Las Vegas Realtor Anthony Romeo is the one to call. Get in touch with me at 702.353.6759 or send an email here.