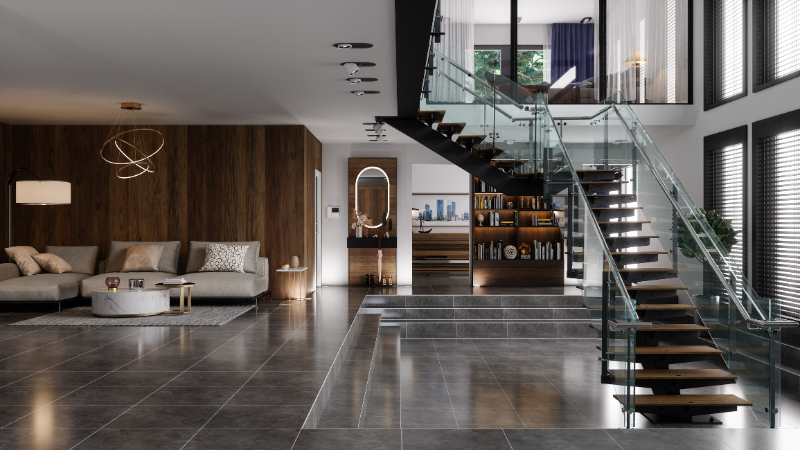 Synonymous with glamor and the high life, luxury real estate in Las Vegas has a timeless appeal. Here's what you need to know about buying luxury real estate in the world's entertainment capital this year and beyond. 
AN OVERVIEW OF THE LAS VEGAS LUXURY HOME MARKET 
As one of the most dynamic cities in the world, Las Vegas offers a distinctive lifestyle with real estate to match. It is a vibrant business hub with world-class attractions like the Las Vegas Strip and Allegiant Stadium. But beyond the bright lights and dancing fountains, the city has a refinement and sophistication that can be seen in its upscale properties.  
In April 2023, there were 635 single-family homes and 92 townhomes and condos listed for $1 million or higher in the Las Vegas area. Local agents sold 114 luxury properties that same month. The demand for upscale properties is largely driven by on-going migration from other states with high-net-worth and ultra-high-net-worth buyers setting their sights on lavish properties.
In-Migration and Luxury Real Estate
According to Redfin, Las Vegas ranked as the second most popular destination for migration in the United States. It recorded 6,400 new residents in November 2022 – down from 7,100 and 8,700 in October and September, respectively. The majority of new arrivals came from Los Angeles.
Local experts estimate that more than 72,000 moved to Las Vegas in the last 12 months alone. About 38.3% of those individuals come from California, the most of any state. But the Golden State isn't the only one sustaining the influx of new residents. An estimated 5% of new residents come from Florida, 4.7% from Texas, and 4.5% from Washington. 
As more companies gave employees more flexibility with remote work over the past two years, the Las Vegas area saw record luxury home sales in the summer of 2020 and 2021. The pandemic also caused buyers to seek larger properties in a scenic and more invigorating environment. Luxury buyers from California, in particular, are drawn to luxury real estate in Las Vegas because of value for money – they can get a nicer home with more lavish amenities. 
Many are also leaving the state due to taxes and regulations. In November 2022, Los Angeles County approved a transfer tax of 4% for properties valued from $5 million to $10 million and 5.5% for $10 million and above. Many luxury homeowners scrambled to sell their high-value properties before the new transfer tax took effect on April 1, 2023. Many looked to the Las Vegas area for less restrictive taxes. There were similar trends in the Pacific Northwest, with many buyers leaving Washington State due to the luxury tax on capital gains.
The Rise of Ultra-Luxury Real Estate
In addition to on-going migration from other states, the Las Vegas real estate market is also seeing the rise and evolution of ultra-luxury real estate (properties valued at $5 million and higher). 
In the few years, Las Vegas has turned into a globally renowned destination for ultra-luxury, offering a five-star lifestyle to a new demographic that includes both American and international buyers. 
Local experts have noted that a diverse range of properties in Las Vegas have traded at world-class valuation over the last two to three years – some Realtors have seen properties priced in the $1,000 range per square foot being traded on global economics.
In the past decade, there were only 131 homes in the area that sold for over $5 million. 32 of those sold in 2020 while 53 changed hands in 2021, which means that the market for ultra-luxury real estate in Las Vegas is rapidly growing and presents opportunities for sellers and investors alike. 
WHAT YOU NEED TO KNOW ABOUT BUYING A LUXURY HOME IN LAS VEGAS IN 2023 
With such a fine selection of homes, choosing is truly the hard part. Here are some tips for choosing and buying the right piece of luxury real estate in Las Vegas.  
Key Features to Look For
New features are constantly being introduced to the luxury market. Knowing which ones will enhance your lifestyle can help narrow down your search. Some of the most in-demand luxury features and amenities for 2023 include: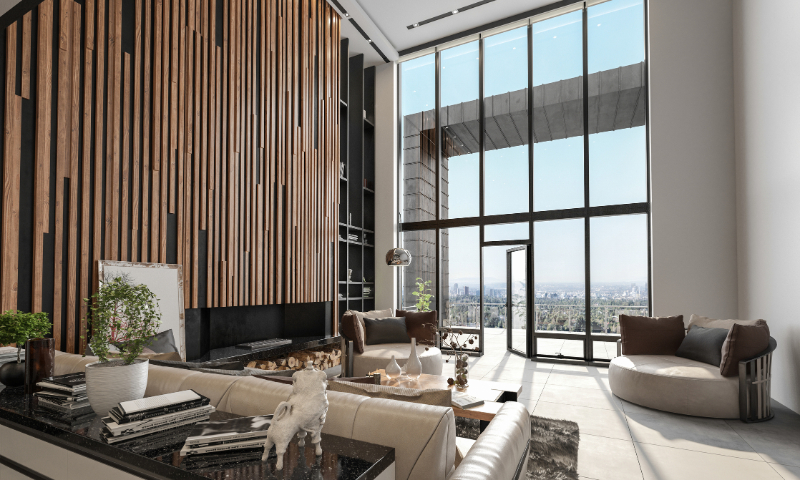 Statement windows will help you appreciate Las Vegas' desert landscape. Not only do statement windows allow for plenty of natural light, they also put breathtaking views on full display. As the focal point of the room, statement windows can frame spectacular scenery just outside your home and create a seamless flow from indoor to outdoor living. 

Though oversized windows and glass walls look fantastic, small windows can also make a strong statement. Stained glass, brightly painted shutters, or a row of small windows along the walls can also be eye-catching. 

Furthermore, statement windows don't have to be reserved for the living area. They can also be found in the main hall, primary bedroom, or dining area of the home. They are especially good in rooms with a darker color palette since the abundance of natural light and natural scenery can help lift the mood.

 

Pool architecture has gotten more creative with every new luxury property that hits the market. Some of the most fascinating properties have wraparound infinity pools as well as pools with LED lighting and integrated smart home technology. Many buyers have also expressed interest in saltwater pools, which require less chlorine and don't give off chemical smells. Cold plunge pools are also popular among buyers who value wellness as ice-cold water is believed to have several health benefits, such as improving mood and circulation to alleviating muscle soreness.

Wine cellars are a must for luxury and ultra-luxury properties. Wine is a passion and important asset class for many high-net-worth individuals, who need a suitable space for storing their valuable wine collections. While most wine cellars can take up the space of an entire room or basement, luxury wine cellars need to be even bigger with high-end features like temperature control and custom glass displays.

Gardens and outdoor living spaces are important for homeowners who entertain frequently and seek more time in nature. For discerning luxury buyers, the exterior of the property is just as important as the interior. Well-kept gardens and spacious yards have increased in importance in the luxury market. Mature trees and "trophy trees" that surround the property and complement its architecture are considered desirable. 

For buyers who are concerned with wellness and physical activity, having a patio or sun deck offers a dedicated space for practicing yoga and meditation as well as playing with their pets and children. These types of outdoor living spaces have increasingly become standard for luxury homes.

Dedicated steam and massage rooms go beyond the usual home spa and can be an important differentiator for luxury buyers. Specialized features like infrared saunas, red light therapy beds, floating tanks, and hyperbaric oxygen chambers can take wellness to a whole other level. 

Massage-specific rooms have also become quite trendy. Some massage rooms are designed to date nights while others can accommodate small groups. In any case, a massage room lets homeowners and their guests relax without any interruptions.

Energy-efficient fireplaces have become more popular than traditional gas or wood-burning fireplaces, which typically require heavy maintenance. These fireplaces can still create ambience and emit sufficient warmth but with additional safety and eco-friendly features. 

Other eco-friendly features such as electric car charging stations and advanced water filtration systems are usually in high demand among luxury buyers who want to live a greenery lifestyle and reduce waste and consumption.
Things to Consider Before Buying Luxury Real Estate in Las Vegas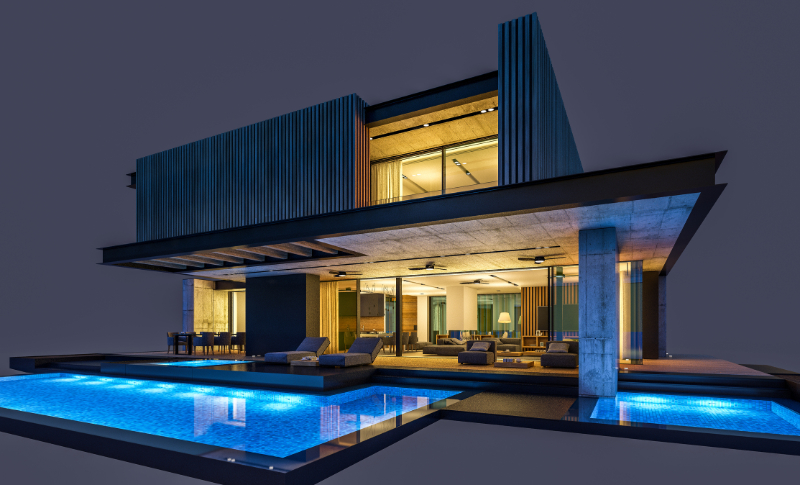 Establish your criteria – Before searching for luxury homes, it's important to set specific requirements and preferences for location, property size, amenities, architectural style, and other factors. This will streamline the selection process and help you save time and energy. 
Set a budget – Set a realistic budget for your luxury purchase. Determine the minimum or maximum amount that you're willing to spend on a home and make sure that it aligns with your financial values and long-term goals. It's also helpful to go through possible financing options or arrangements for this property. 
Research neighborhoods – Find out which Las Vegas neighborhoods or communities reflect your values. When choosing a neighborhood, it helps to take several factors into consideration, such as proximity to schools, parks, shopping centers, entertainment venues, and other amenities.
Find a real estate agent – Work with a local expert who specializes in luxury real estate in Las Vegas. An agent or Realtor can provide access to exclusive listings, provide valuable information, and help negotiate the best deal possible. 
Home viewings – Schedule visits or viewing appointments for properties that match your criteria. When visiting a property, pay attention to the quality of construction, finishes, and amenities. Take note of unique or custom features that set it apart from other luxury properties on the market.
Amenities and services – Luxury homes often feature a unique combination of high-end amenities like fitness centers, pools, concierge services, and security. How will these amenities and services enhance your lifestyle? When evaluating amenities and services, make sure that they meet your high expectations as a luxury buyer.
Resale value – Luxury homes are high-performing assets which can increase in value over a period of time. There are several factors that can affect the potential appreciation and long-term value of the property. These include overall maintenance as well as planned developments and infrastructure projects in the area.
Due diligence – Before making an offer on a luxury home, perform due diligence with the help of attorneys, inspectors, title insurance companies, and other professionals. Performing due diligence typically involves a property inspection, a thorough review of legal or financial documents, and verifying the property's title and  chain of ownership.
Review the homeowner association (HOA) fees and CC&Rs – If the luxury property is located within a HOA-governed community, it's crucial to review covenants, conditions, and restrictions that can potentially affect your usage of the property and any future renovation plans. It's also important to be aware of any fees and financial obligations that you may have as a homeowner.
Mistakes to Avoid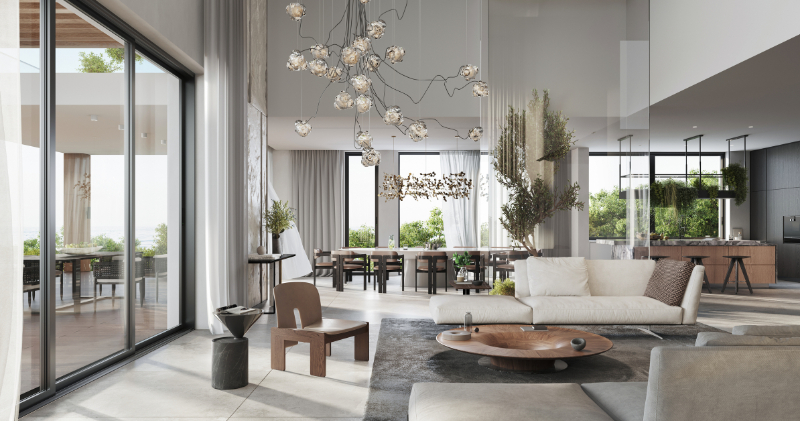 Getting emotionally attached to the property – It's normal to establish an emotional attachment to a well-designed property that reflects your values. However, this can cloud your judgment, cause you to overpay for the home, or pass over other worthy and better-value properties. Working with a real estate professional will help you maintain objectivity and consider all your options in the market. 
Skipping the home inspection – Waiving certain contingencies such as the home inspection can result in disastrous consequences down the road. While waiving some conditions can help speed up the sale, it can also be a costly mistake if the property has structural defects and other major issues that are not apparent during the home viewing. 
WHO'S BUYING LUXURY HOME IN LAS VEGAS 
Vegas Golden Knight star Alex Pietrangelo purchased a 1.15-acre residential lot in Summerlin for $5.25 million – which is currently on the market for $8.9 million – and a luxury home for $5.32 million, both in Summerlin, in April 2023.
National Hockey League (NHL) star Max Pacioretty sold his Las Vegas estate for $11 million, setting the record for the most expensive sale in The Ridges and the highest sale price for the greater Las Vegas area thus far in 2023. Pacioretty was a member of the Vegas Golden Knights for several seasons before being traded to the Carolina Hurricanes in July 2022. 
Singer Celine Dion sold her 31,000-square-foot mansion for $30 million in May 2023. She bought the home for $9.2 million in 2017 and more than tripled her investment in an off-market sale. 
KISS bassist and co-lead singer Gene Simmons sold his Las Vegas mansion and an adjacent half-acre lot for $11 million in March 2023. The rock legend and his family lived on the 11,000-square-foot property for about two years, having acquired it and the neighboring parcel – on which planted over a hundred trees – for $8.2 million in May 2021. The home is located in a guard-gated community and features a koi pond and private courtyard. 
Actor Mark Wahlberg purchased a 2.5-acre lot in The Summit Club for $15.6 million with plans to build a luxury mansion. The Boston native also bought a  7,327-square-foot home in the same area for $14.5 million. The two-story home has four bedrooms, four bathrooms, and 1,300-square-foot garage.
Las Vegas act Siegfried & Roy's lavish compound, Jungle Palace, was sold to Carden International Circus owner Brett Carden for a cool $3 million within days of hitting the market. The late Siegfried Fischbacher and Roy Horn resided on the iconic property with lions and other exotic animals.
Switch CEO Rob Roy purchased a five-acre lot in The Summit Club for $33 million with plans to build a luxury estate. It is the second-highest amount paid for a luxury lot for custom home development in the Summerlin community so far in 2023.
LUXURY HOMES FOR SALE IN LAS VEGAS
When it comes to luxury and ultra-luxury real estate, Las Vegas offers a wide range of single-family homes, townhomes, and condos with quality construction, upscale finishes, and lavish amenities. These homes are available in a diverse array of architectural styles, including Modern, Contemporary, Mediterranean, and Spanish Revival. 
The most desirable of these properties are situated on large lots with spacious driveways, outdoor pools, and gorgeous desert landscaping. Luxury features typically include high-end appliances, oversized windows, viewing decks, and patios for entertaining.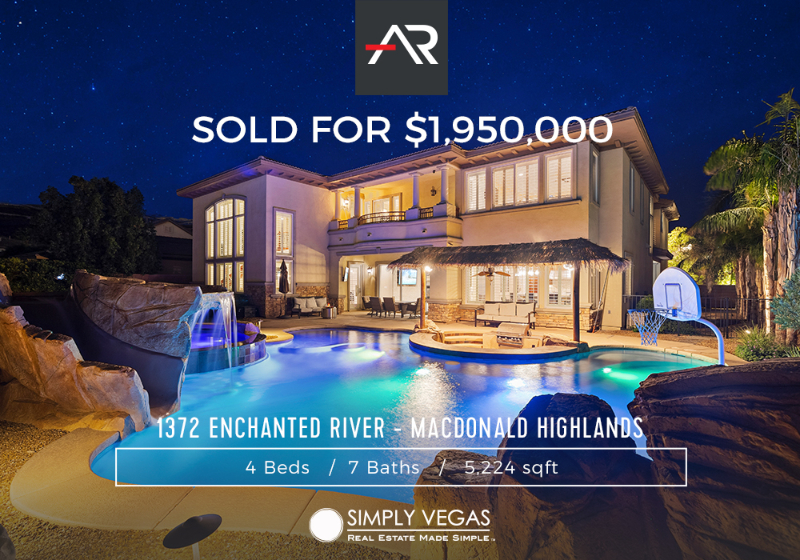 FIND THE PERFECT HOME WITH ANTHONY ROMEO
If you're still searching for the perfect luxury home in Las Vegas, let Anthony Romeo assist you.  
A leading real estate professional with over 20 years of experience, Anthony Romeo is easily among the best Realtors serving the Las Vegas area. He offers bespoke services to luxury buyers, taking their specific needs and preferences into consideration. His knowledge of the luxury real estate market and exclusive neighborhoods allows him to find one-of-a-kind properties that suit your lifestyle.
Ready to start the property search? Call Anthony Romeo Real Estate at 702.353.6759 ro send him an emailhereto get started. You can alsocontact him herefor more information.