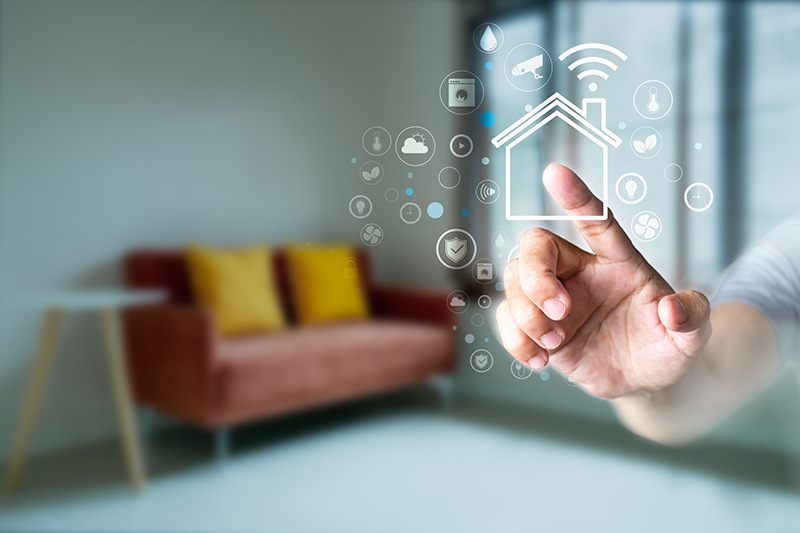 Gone are the days when smart home innovations were deemed only as nice-to-have features in Las Vegas households. As technology becomes increasingly intertwined with everyday tasks, home automation in Las Vegas properties has transformed into a necessity.
The ability to manage a wide variety of tasks – from temperature control to security access – with the push of a button or a voice command not only adds aesthetic value but also provides ease and convenience to homeowners of different ages and abilities. Intelligent solutions can enhance remote learning and working, ensuring dependable connectivity even in the face of internet outages and weather disturbances.
Smart homes also encompass sustainability. Through the use of AI, automated devices like sensors and plugs efficiently cut down energy consumption without the need for human monitoring. You can be away on a vacation and not worry about forgetting to turn the lights off (and more importantly, a break-in). Modern luxury in Las Vegas means enjoying all that at a whim – and more!
From enhancing one's quality of life to providing greener solutions, today's modern home technologies are revolutionizing luxury real estate. Here, we will take a deeper look into how this emerging concept adds more value, ease, and personalized comfort to home living.
KEY SMART HOME INNOVATIONS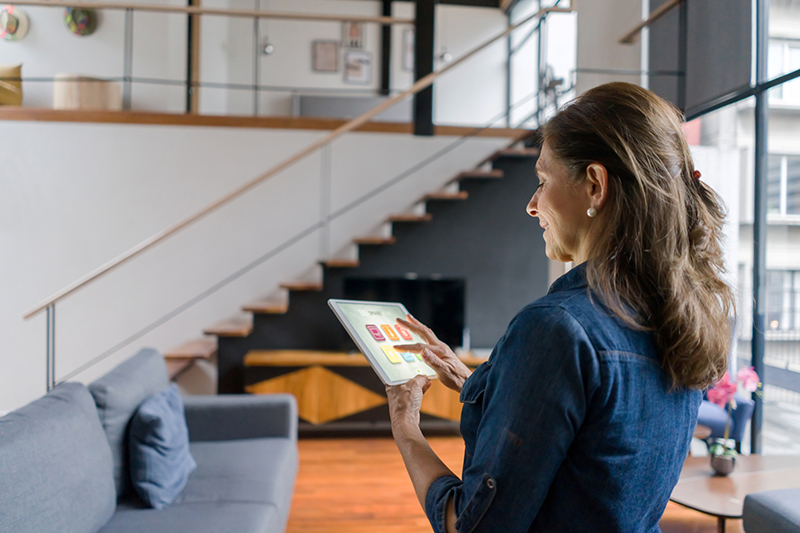 Home automation and AI-powered systems
While smart gadgets and apps allow you to navigate a specific task with more ease, an AI-powered home system takes this up a notch by letting you accomplish multiple ones without moving a muscle. If, in standard houses, you need separate remote controls to set the air conditioning thermostat and play music, home automation lets you do both, plus sweep the curtains, brew a hot cuppa, open the gates – virtually anything you want – altogether simply through voice command or text.
By preventing disruption in between routines, a fully automated Las Vegas smart home not only enhances convenience and efficiency but also reduces additional labor to residents with varying challenges, be it busy parents who have their hands full or senior adults with limited mobility.
Energy-efficient solutions
As minimizing carbon footprint becomes a priority for homeowners, many sustainable solutions rest at the heart of modern luxury homes in Las Vegas and elsewhere. These homes are fitted with energy-saving automated systems that dim the lights depending on the time of day or switch them off completely when not in use. This extends to other appliances, as well, such as televisions and fans.
In multi-use or common rooms, built-in sensors can allow for automatic transitions between warm and bright lights, while smart LED "grow lights" afford homeowners the pleasure of cultivating their favorite herbs and greens indoors.
For even greater energy efficiency, many luxury homes are also equipped with smart grids or photovoltaic systems. These convert sunlight to renewable energy that can power up a household from floor to ceiling.
Home security enhancements
It wouldn't be called modern luxury in Las Vegas without airtight security in place. Today's luxury homes employ a combination of intelligent technologies, such as state-of-the-art security cameras and motion detectors, to prevent forced entry. Many are designed to automatically alert emergency services, sans human intervention, affording homeowners the utmost peace of mind while away on vacation.
Forget multiple house keys. With biometric locks, you can access every entryway and door imaginable, from closets to bathrooms, with fingerprint, facial, or voice recognition.
Advanced security systems are embedded with deep learning. These utilize powerful facial recognition software to create a library of a homeowner's known connections, from family to acquaintances, and scan them upon entry – a useful algorithm that prevents costly (and embarrassing) false alarms.
EXCEPTIONAL LIVING EXPERIENCES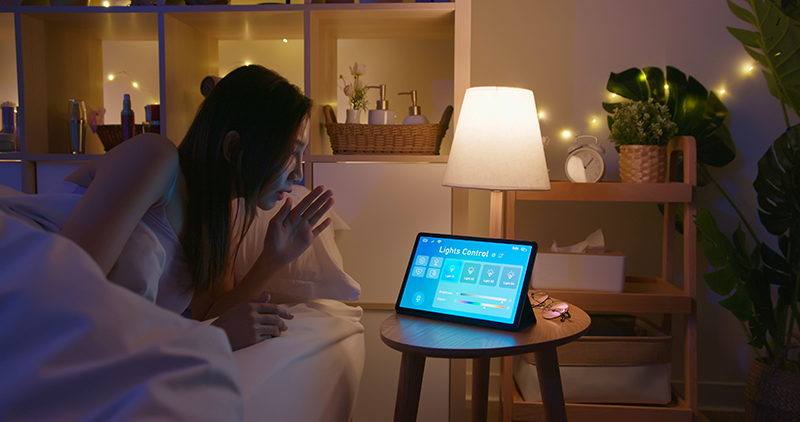 Seamless connectivity and personalization
When we enter someone's personal space, often we are told to make ourselves at home. In the case of smart homes, it is the other way around. It is the home that adapts to its occupants' and visitors' unique needs, routines, and preferences.
Using data analytics, these properties bring seamless, tailor-fitted experiences that make life effortless for every individual, be it temperature adjustment or personalized media entertainment solutions.
Like their counterparts in other states, Las Vegas smart homes assure hassle-free experiences within and outside their walls despite internet outages. In such cases, smart devices that power security locks, lights, and temperature continue to work through a code or a switch. Tasks remain simplified and residents are still able to interact and move within their space seamlessly.
Entertainment and media rooms
Smart technologies transform an average movie viewing experience into a theater extravaganza within the comfort of one's home. Luxury homes are designed with opulent media centers fitted with surround sound and smart TVs for streaming arthouse films or action-packed video games. The cherry on top? You will enjoy full control of your entertainment space from any corner of the house with only speech commands.
Distributed audio
It's not only movie lovers who get to have their cake and eat it, too. In a smart home, audiophiles can delight in distributed – or whole home – audio systems. With these novel inventions, you can take pleasure in seamless audio playback from any space.
Through wireless, wired, or hybrid speakers and amplifiers that interact with each other, you can carry audio with you as you move from room to room. These components are commonly built in the walls or ceiling, with central hardware neatly stored in a small, designated space in the house and easily controllable by an app.
Distributed audio lets you take the music from inside to your front yard while grilling barbecue and drinks with friends for one memorable party.
Smart bedrooms
Only one thing can top sleeping in a luxury home: sleeping in a luxury home with smart bedrooms. From voice-activated eco-friendly lights that turn off on cue or dim to your desired warmth or color to beds with one-push adjustment dials for nighttime reading, smart bedrooms send you off to a relaxing sleep in no time.
Smart plugs. An excellent energy saver around the home, smart plugs automatically transform any device, including non-smart bedroom lights, into a smart device through an app or voice activation.

Smart shades. Not a morning person? Contrary to the startling call of traditional alarm clocks, smart blinds nudge you gently from sleep to reality with several soothing settings that you can pre-program using an app or voice command. Apart from a wake-up time of your choosing, you can adjust the amount of natural light coming in based on your comfort level.

Wake-up lights. A more modest alternative to smart blinds, wake-up lights are small bedside lamps that mimic sunrise and are beneficial in months when little sunlight is coming through.

Smart thermostats. Although a central cooling system is a standard installment in luxury homes, this takes the traditional thermostat to another level by offering you full temperature whether you're in or out of your home. Smart thermostats can be pre-programmed to your desired temperature prior to your arrival without needing to be inside the property and waiting for a certain amount of time for it to "warm up" (or cool down) – which are common disadvantages associated with traditional HVAC systems.

Smart thermostats can be accessed and regulated using an app without wasting energy. The temperature automatically sets to your preferred setting once you get home. Like other smart systems, it learns your preferences all throughout the day and automatically adapts to – and even detects – weather changes. It keeps things toasty inside whenever it's nippy outside, and vice-versa.

Best of all, it offers you accurate reports on energy consumption and savings. That way, you can track energy efficiency and easily monitor any potential issues with your HVAC system.

Smart fans. Another smart bedroom essential, smart fans are excellent for cooling off your entire sleeping space. Like smart thermostats, these devices automatically detect temperature, intelligently adjust the settings, and can be controlled remotely through a smartphone app.

Smart air purifiers. Nothing brings peace of mind than knowing you are breathing clean air as you sleep. Smart air purifiers get the job done, keeping track of air quality and effectively ridding the air of smoke, dust, and other particles using premium HEPA filters. They also generate detailed reports.
SMART BATHROOMS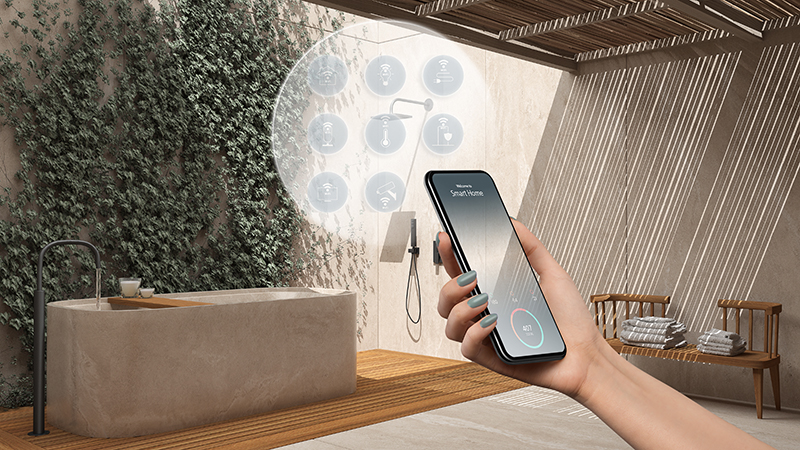 More than serving as a status symbol (and a good market valuation tool), the bathroom is deemed the most important room in luxury homes because it is the place where the "official business" of the day begins. Thus, you would want your bathroom furnished with nifty features that set the right tone for your day.
Fortunately, a lot of modern luxury properties in Las Vegas come with innovative bathroom technology that uses smart system controls so you can luxuriate in the bath without lifting a finger. Many also guarantee up to a 50% reduction in energy consumption.
Heating systems that pre-heat the bathroom using radiant heat make for warm, pleasurable baths, especially in the chilly winter months. Intelligent showers let you control and track water flow, duration, and temperature as desired through remote access.
Smart bathrooms are equipped with adjustable opacity panels that offer the utmost privacy without affecting natural light.
Meanwhile, smart LED mirrors offer you real-time traffic updates to your workplace as you brush your teeth.
SMART KITCHENS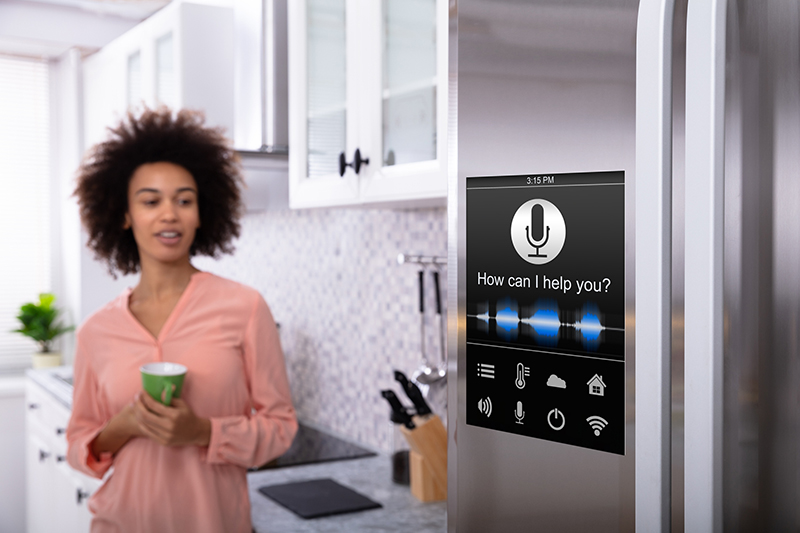 Smart kitchens can automate virtually any kitchen task from brewing a hot cup of Joe to preparing family meals. Using a smart device or voice command, you can pre-program modern coffee makers to begin brewing while you get ready for a workday. Customize your cup as desired, from size to bean grind even at bedtime, and enjoy hot coffee by the time you wake up.
Nowadays, smart kitchen scales go beyond simply weighing food items. Many models are paired with apps that let you select and try delicious recipes while the scale carefully walks you through the process, from to-the-dot measurements to when you should drop the egg into the pan. Some also suggest substitutes for certain ingredients, which is useful if you've run out of one. Most, if not all, are built to be heat-resistant, so you don't have to worry about damage or breaks.
Probably the next best thing to a personal chef, an all-in-one kitchen machine comes with over two dozen different functionalities, from blending fruits and kneading dough to searing meats and mincing onions. You can whip up sumptuous recipes like a pro in a flash, making it a handy companion when entertaining guests.
The sky is pretty much the limit when it comes to smart kitchen faucets. Capable of functioning when operated manually through hands-free motion sensors, via an app, or through voice control, they can dispense water to the cook's desired temperature and at exact measurements, from something as tiny as a teaspoon to several gallons.
Most of these tech-savvy inventions are also compatible with Google and Alexa, allowing residents to program custom presets for relevant tasks such as dispensing specific volumes for preparing baby formula.
However, in terms of home automation in Las Vegas kitchens, it is hard to find a piece that matches the trendiness and benefits of a smart refrigerator. Serving as an all-in-one hub for families and couples, smart fridges these days go beyond a food storage item. Using your smartphone, you can easily take a peek at what's inside your fridge in real-time as you scan grocery shelves, eliminating the need for long lists and unnecessary spending on food items you already have.
Upon your return, you can watch video tutorials of recipes, view digital family photos from the display screen of the fridge door, or play your favorite songs. Certain models also come with a digital whiteboard where you can write down important notes or let your little ones doodle on them.
SMART HOME INNOVATIONS FOR ASSISTING SENIOR RESIDENTS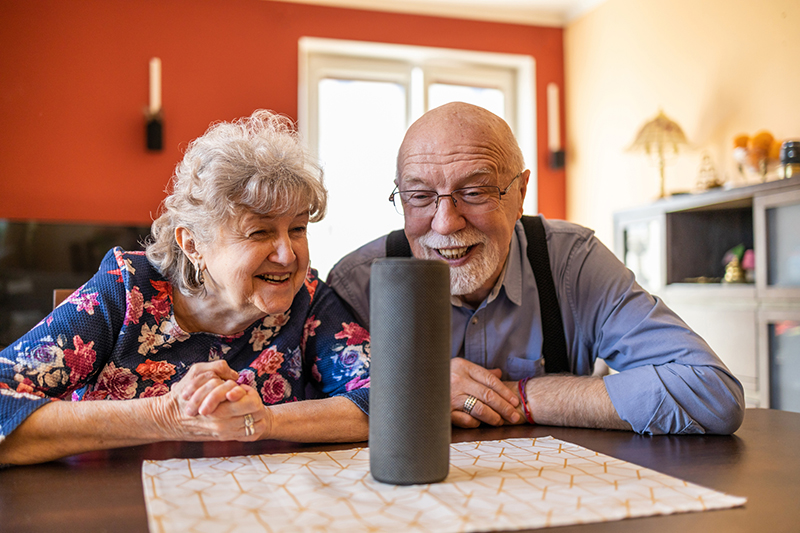 With aging also come certain challenges to daily living, such as impaired vision, movement, and memory. Modern luxury homes in Las Vegas address these difficulties by integrating helpful smart aids that empower senior adults to navigate daily tasks independently, safely, and comfortably.
Smart lights
With voice-activated smart bulbs, older adults can switch lights on and off without fumbling in the dark, thus reducing the risk of falls or accidents.
Smart cooking
The National Fire Protection notes unattended cooking as the leading cause of household fires in the country. Older adults, especially those afflicted by memory disorders such as dementia and Alzheimer's, are at higher risk of experiencing these accidents.
Smart ovens and stoves are built with remote on-off access, plus auto-shutdown features when not in use for a certain amount of time. For added safety, they come with sensors and timers that alert other family members if there is cooking that is left unattended.
Security cameras
More than serving as watchful eyes whenever seniors leave their houses, smart security cams can also serve the same purpose while they are in it. Other family members can watch over senior residents wherever they are, so they can quickly respond to any accidents and injuries should they occur.
Medical alert systems
A crucial lifesaver especially in older adults and individuals with memory or mobility disorders, emergency alert systems make use of wearable devices like wristbands or watches for alerting contacts or local medical services during emergencies.
While most systems operate through push buttons that connect to hotlines or contacts' mobile or landline numbers, more recent systems can be set up to connect to voice-activated software like Alexa or smart hubs.
Smart hubs
Operable in several ways, including voice activation (e.g., Alexa, Amazon, Google, and similar voice assistants), Bluetooth, and WIFI, smart hubs enable homeowners to simultaneously control smart devices from lights to TVs to doorways through a dedicated "command center." Apart from enhancing ease for those with impaired mobility, they also assist in emergent situations, like activating medical alert devices.
Smart hubs also offer an added layer of security as they pair perfectly with video-enabled smart locks.
Smart locks
It can be nerve-wracking to have empty-nester family members living miles away from you. Luckily, smart locks ensure that only those who have permission through voice activation, sensors, or via a smart hub can enter the premises. Trusted family members can visit senior homeowners without requiring movement from the latter – all using a passcode or an app.
Smart locks are also able to record and save video footage of individuals approaching the door or from across the street or at the door.
LOOKING FOR SMART HOMES IN LAS VEGAS?
Whether you are looking for homes in the tranquil gated communities or near the most popular attractions of Las Vegas, modern luxury homes with smart technology let you experience the best of Sin City. Allow me, Las Vegas native and top Realtor Anthony Romeo, to lend you a helping hand.
With more than two decades of real estate experience, I can offer you insider tips and knowledge into neighborhoods that suit your taste and lifestyle – and those that are well-equipped with fully automated smart systems to make living a breeze.
You may contact me at 702.353.6759 or send me an email here.