Las Vegas is known as the Entertainment Capital, with its expansive casino-hotels, world class shopping, and entertainment centers. However, Las Vegas and Henderson also offer outstanding residential locations in some of the most affluent neighborhoods in the world.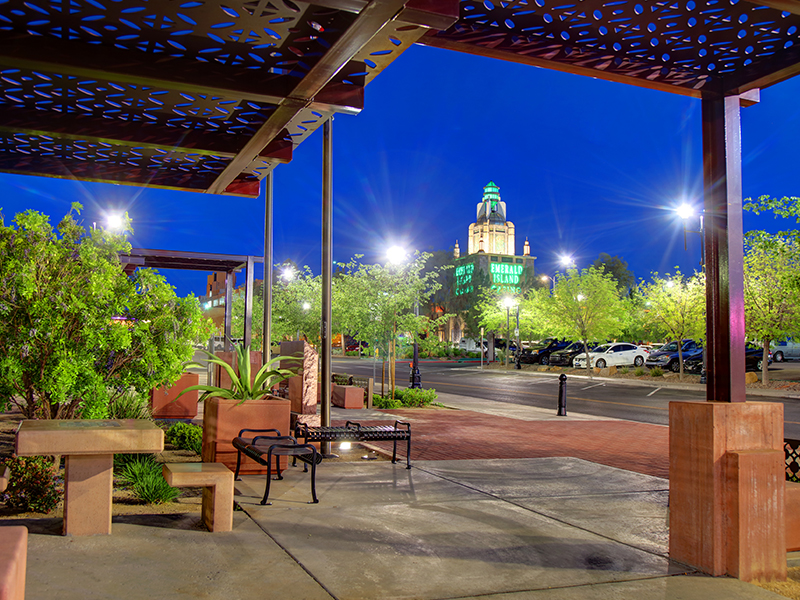 Here, we'll take you through some of the most notable (and richest) neighborhoods and communities, giving you inside knowledge as to what makes them great places to move to or invest in. 
Summerlin
Considered one of the most expensive neighborhood in Las Vegas, Summerlin has great homes in modern designed living spaces. Its proximity to lifestyle and entertainment centers makes it a great location to enjoy all the benefits of urban Las Vegas. However, Summerlin is built near Red Rock National Conservation Area, offering easy access to beautiful, wild and expansive outdoor  spaces. Here, you can experience the full majesty of the Mohave Desert and its sandstone cliffs of red and cream. Enjoy scenic drives on a 13-mile strip, various hiking trails, mountain and road biking trails, rock climbing, horseback riding, or just picnic with family and friends. 
Summerlin's Downtown features world-class amenities, homegrown and international shops, premier indoor and outdoor venues, as well as the Las Vegas Ballpark and the City National Arena. 
One of Summerlin's residential highlights is The Ridges, an 800-acre guard-gated community set 4,000 feet above sea level offering stunning views. Exclusive amenities here include Bear's Best Golf Course designed by legendary golfer and designer Jack Nicklaus. Single-home properties span around 6,000 to 10,000 square feet, often with 6 bedrooms. There are also smaller properties at around 2,000 to 3,000 square feet with 3-4 bedrooms, and private pools.
When it comes dining options in Summerlin, try these venues: 
Harlo Steakhouse & Bar: Built by restaurateur Jeffrey Fine and chef Gina Marinelli, Harlo is an exclusive steakhouse designed for an upscale dining experience. Interesting Harlo signatures are roasted bone marrow, pastrami wedge, a Harlo caviar service, and a 40oz Bistecca alla Fiorentina. 
Grape Street Cafe & Wine Bar: A California-bistro offering Italian and Mediterranean dishes, named as one of the "Top 10 Las Vegas Wine Bar Restaurant" by Gayot. Created by Chef John McKibben, Grape Street has been operating for over 25 years. The intimate setting with rustic features and a full-service patio make it a great spot for intimate dinners. Private rooms are available.  
Maggiano's Little Italy: A popular destination for Italian-American dishes, this restaurant evokes the sense of eating in a traditional Italian home, complete with your favorite dishes cooked by grandma. Maggiano's takes pride in its authentic family-style Italian-American dishes, warm atmosphere, and great customer service. 
Henderson 
In Nevada's second largest city, residents enjoy a vibrant art scene and several entertainment, recreation, dining, and outdoor spaces. Henderson has a high number of luxury communities and some of the richest neighborhoods in and the area.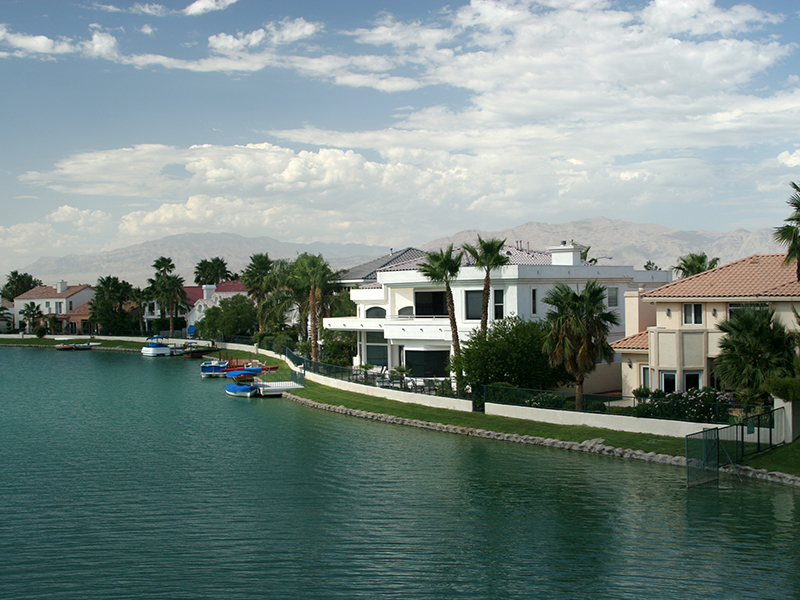 Golfers are spoilt for choice here with ten courses for all level of golfers including premier spots like Reflection Bay, and Anthem. Henderson is also the jump-off point to visitors looking to visit the Hoover Dam, Colorado River, and Lake Mead.
A part of the Colorado River and formerly known as part of the Black Canyon, Hoover Dam is where you'll find deep canyons, colorful rock formations, and steep cliffs. Visitors and residents can also visit Lake Mead that spans 110 miles long in Nevada and Arizona. The largest manmade reservoir in the nation, Lake Mead features 28 millions-acre feet of water with a backdrop of rugged mountains. Activities here include boating, hiking, camping, and cycling. 
A notable community in Henderson is Ascaya offering panoramic city views of the Las Vegas skyline and the McCullough Mountain Range. Luxury single-family homes in Ascaya are around 6,000 to 10,00 square feet with around 4 to 6 bedrooms, often with stunning private pools, expansive outdoor spaces, and stunning modern designs.
Henderson is also home to Macdonald Highlandwhich has everything you want from a luxury community. There's a world class golf course, breathtaking views of The Strip as well as the Black Mountains, and homes that are perfectly incorporated into natural landscape. 
While it's always difficult to truly rate the most affluent and richest neighbourhood in the country, Macdonald Highlands will always be in the conversation. 
Top dining places in Henderson include: 
Lucille's Smokehouse BBQ: A gem from the south, this smokehouse BBQ restaurant is dedicated to "serving the barbecue with the finest southern hospitality." Along with its specialty barbecue, menu choices include appetizers, wine, beer, cocktails, and more. This is matched with a bar known as the "Flying Pig Lounge" for some fun music and dancing. 
Hank's Fine Steaks and Martinis: Located in Green Valley Ranch, this four-diamond-awarded restaurant offers fine steaks and seafood, handcrafted martinis and a wide assortment of other drinks, together with premier customer service and live music at a piano bar. 
Artisan Booze District: For something a little different try Artisan Booze District. A popular place for artisan craft beers and spirits, unique blends, farm-to-fork businesses, and distilleries – Las Vegas Booze District is a strip that offers a sip-and-stroll experience and a wine school.
Green Valley Ranch
Green Valley Ranch is a master-planned community that has been ranked as the best place to live in Henderson. It had also been recognized as one of the best places to raise a family, with some of the highest rated schools in the country, an abundance of recreational activities and many parks. The median price of a home in Green Valley Ranch is around $550K.
Some great spots in the area
Salon and Spa: 40,000 square-foot spa and salon, with services including massage therapy and bodywork, body scrubs and wraps, specialty facial and body, as well as fitness training and services. 
Kids Quest: For children and the kids at heart, for the ultimate gaming experience at Kids Quest include a video and arcade games, sports zone, climbing wall, creation station, iPad station, interactive train table, the lab, and more. 
Bar Lounges: Try a wide assortment of lounges and bars including Drop Bar for a luxe casino lounge experience with live DJs, the Lobby Bar for a light and airy experience, and the Sip Bar for handcrafted cocktails and famous martinis. 
Of course, there are some great dining options here including:
Borracha Mexican Cantina: Drop by for tacos, burritos, tortillas, and fresh Baja fish with specialty tequilas, cocktails, and the classic cerveza. Interiors feature a Dia de los Muertos aesthetic and handpainted murals.  
Bottiglia: For elevated Italian dining expereince in a light and airy venue, this is the place to be. Guests are served with Tuscan-inspired dishes together with a vast collection of wine options from all over the world. 
Pizza Rock: Headed by Chef Tony Gemignani, acclaimed World Champion Pizza Marker and at the World Pizza Cup in Naples, Pizza Rock features artisan pizza with scratch-made dough, handmade sausages, and only the best ingredients. Additional gourmet menu options are pastas, stromboli, antipasti, calzones and more – with a dedication to organically-growned produce, Italian ingredients, and freshly made pastas.
Inspirada
A master-planned community, Inspirada highlights include Potenza Park with skate pavilion, and Aventura Park with amenities such as heated pool, water play area, courts for basketball, baseball, soccer, tennis, and more. There is also the Sloan Canyons Hiking Trails in the Sloan Canyon National Conservation Area with 15 unique trails for all levels. Some of these trails include Trail 101 for easy to moderate hikes, Hidden Valley Trail 300 for advanced hikers, and the Mountain Bike Skills Trails for easy interconnected trails. 
Inspirada is home to some of the top-ranked schools in the Clark School District. The Montefiore Walk and Anthem Highland Shopping Center are within proximity making it easy to shop for all you needs. 
Properties in Inspirada are single-family houses ranging from 3 to 5 bedroom properties, covering around 2,000 square feet to over 4,000 square feet. 
Inspired dining options in the neighborhood include award-winning restaurants such as:
Lindo Michoacán: For the best authentic gourmet Mexican cuisine, try local favorite Lindo Michoacán, claimed to be "The Best of Las Vegas" by its visitors. Another claim to fame is its must-try margaritas that was voted the best in the area 16 years in a row.
Todd's Unique Dining: Run by chef and owner Todd Clore, the restaurant's wine dinners are very popular with locals. The menu changes almost daily offers new exciting meal options along with classic restaurant staples. If you love seafood, go for the freshly sourced seafood from Cape Cod and Alaska, noted for its premier taste, freshness, and tenderness. Other hit menu items are the Dungeness crab cake, pan seared rainbow trout, NZ king salmon, and goat cheese wonton served with raspberry-basil sauce, 
Penn's Thai House: A laid-back dining experience with authentic Thai food awaits visitors of Penn's. With a home-style vibe, all menu items are made from scratch and generously served. Crowd favorites are the Panang curry, crispy garlic chicken, and the summer rolls.
North Las Vegas
North Las Vegas is one of the largest communities in Nevada, following Henderson. It offers some of the newest homes in the area, many of which are custom-built. Much quieter than other parts of Nevada, the North Las Vegas area is a great place for families with open spaces, parks, libraries, and great schools. 
North Las Vegas is home to Las Vegas Motor Speedway for drag and dirt racing enthusiasts. There's also the Lower and Upper Wash Trail Systems and the Las Vegas Mountain Ranges if hiking is more your speed.  
Composed of over 40 neighborhoods, some of the most popular in North Las Vegas are Aliente, North Ranch, and Villages at Tule Springs. 
Aliente is the largest master-planned community in the area with amenities that include three city parks, an 18-hole municipal golf course, library, soccer fields, an amphitheater, casino. There's also a 20-acre Nature Discovery Park that features a hiking trail, lake, waterfall, and a recreational space for children with a dinosaur theme. North Ranch is a prime location a few miles away from The Strip, making it a popular choice among young professionals and retirees. The Villages at Tule Spring has Seastrand Community Park with soccer and baseball fields, walking trails, and a basketball court. 
For dining, try these spots:
Springs Cafe: Overlooking the Las Vegas Strip, Springs Cafe is a popular spot for brunch. On top of a 180-degree view of The Strip and its stunning valleys, the cafe interiors also feature an airy indoor dining and an outdoor patio. Menu choices include salads, burgers, lattes, and smoothies. There are several vegan, vegetarian, and gluten-free options too. 
Villa Azur Las Vegas: A French-Mediterranean inspired dining experience that is one of a kind. Villa Azur offers a five-hour dinner party in a vibrant color-changing dining area, a superhero-themed bottle service, and live entertainment that includes roving singers and burlesque performers. Designed to be a culinary and lifestyle experience reminiscent of the charming South of France, Villa Azur is an ultra-chic venue that includes 24 VIP booths.
Tacos y Hot Dogs Sonora: A casual dining space that is highly rated for its outstanding customer service and delicious Sonoran hot dogs. Other popular menu options are the torritos, tacos, chiledogo, and quesidogo. This family-owned restaurant is popular among locals and visitors. 
More than the casinos and the luxury resort hotels, Nevada is a prime location for luxury real estate. With some of the richest neighborhoods in the world,  Las Vegas and Henderson also provide a unique topography, vegetation, and wildlife making for a unique living experience, and its world class amenities and attractions allow for activities all year round. 
Find your perfect home in Las Vegas
Live the life you deserve in your luxury home that perfectly fits your lifestyle. Las Vegas and Henderson have many upscale and affluent communities set in breathtaking landscapes. Take advantage of the many premier community amenities available; and enjoy close access to the vibrant, and dynamic energy of Las Vegas.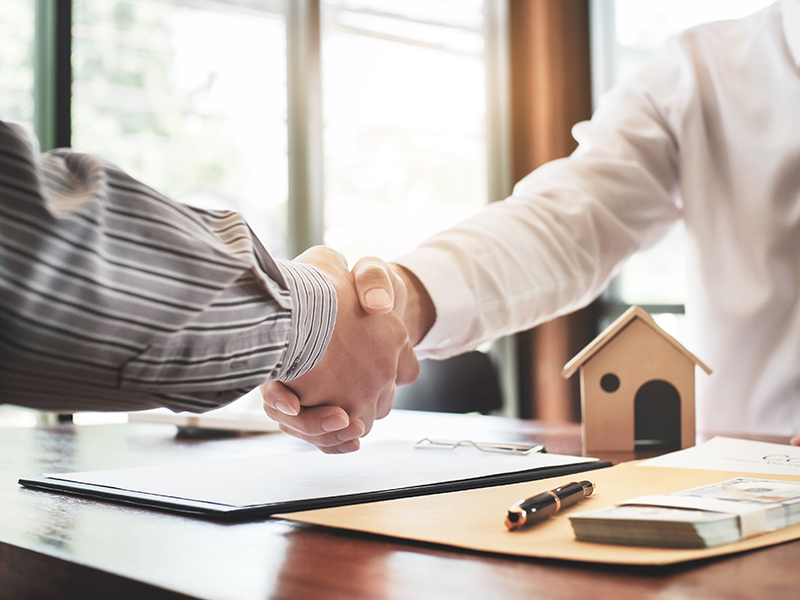 When it comes to finding your dream luxury home or your next exciting investment, choose a  top luxury real estate agent in Las Vegas.  This will not only provide a hassle-free home purchasing experience, it will give you access to some of the best properties available, some of which may not be publicly listed in the market, but rather are sold through connections and word of mouth. 
If you're looking for a top luxury real estate agent in Las Vegas,  work with Anthony Romeo. With over 20 years of experience as a realtor in Las Vegas, Anthony has helped countless clients. Contact Anthony by calling 702.353.6759 or send an email here.