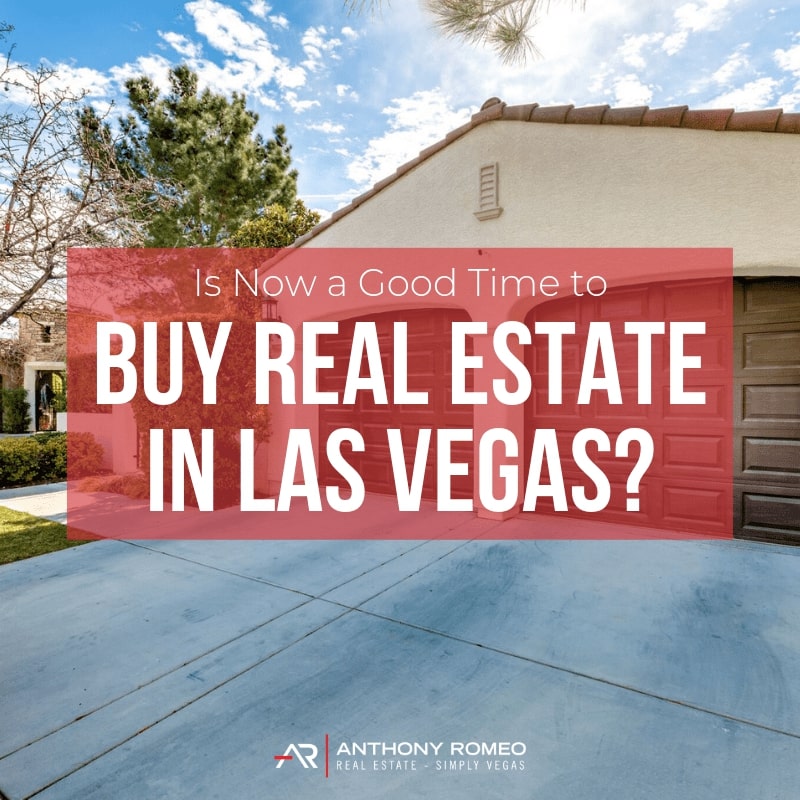 The Las Vegas housing market ended on a really high note at the end of 2018 – so much so that it actually surpassed other top US housing markets, like Seattle. The Las Vegas real estate market last year was booming and "For Sale" signs were taken down almost as quickly as they were put up – buyers were gobbling up available homes almost immediately. The average home only sat on the market for about two weeks while others sold within days. The reason behind this surge is due in part to fluctuating interest rates and also the fact that many buyers are coming from out of state and quickly grabbing any available real estate. There are also many investors looking for income properties in Las Vegas.
What does all of this mean for 2019 real estate market trends in Las Vegas? Is now a good time to buy real estate in Las Vegas? The short answer is that it is a great time to buy real estate in Las Vegas. There are numerous trends from 2018 that are continuing on through this year, as well as some additional aspects of the industry that will benefit new buyers. If you are ready to explore properties for sale in Las Vegas, get in touch with our team – we would love to help.
Steady Interest Rates
Last year the Federal Reserve (Fed) raised interest rates at the beginning of the year, and they progressively increased throughout the year. Although these rates will always fluctuate, and it is very possible that the Fed will raise rates again in 2019, right now rates are very attractive for buyers. Rates are so great that there are many homeowners who are choosing to refinance existing loans in an effort to save money.
Population Growth
The population in Las Vegas is projected to grow at a high rate this year, which means there will be many new residents moving from other states and looking to buy new homes. If you are local to the Las Vegas area and thinking about purchasing an income property, now is the time to invest, as you will easily fill any vacancies. If you are thinking about moving to Las Vegas and interested in buying a home, then jump in with no hesitation! Las Vegas offers an outstanding quality of life and numerous high-end communities with incredible amenities for even the most discriminating buyers.
New Construction
The projected growth for 2019 will push builders to increase production and construction of new homes. This year, builders will need to put out more inventory and there are many new projects that will become available later this year. In 2018 there were many interested buyers, but not enough inventory to go around, which is why so many homes were sold as soon as they became available. In order to restore balance, as new construction homes become available interested buyers will be able to put in their offers without worrying about limited inventory. As the population grows and the local economy continues to thrive, builders will continue to explore new opportunities for new construction homes and properties.
Balanced Market
Currently, we are experiencing a balanced market in Las Vegas. This means that whether you are selling or buying a property, you have a better opportunity to negotiate than you would have a year ago. The low interest rates, available inventory and promising demand means that the market is holding steady and both buyers and sellers will be able to achieve their real estate goals. As Las Vegas continues to experience population and economic growth, the real estate market will also continue to grow and offer more opportunities to those looking to buy or sell a property.
The real estate industry is ever-changing, which means that what is true today may not be true tomorrow. Seasoned experts in the field offer solid market predictions based on steady trends that do a great job of foreseeing the state of the market and where it's going. Based on the latest market data, the Las Vegas real estate market is strong and solid, which means it's a great time to buy a home. Whether you are looking for a primary residence, a second vacation home or an investment property, there are various options to choose from. Explore the incredible communities in the area and let us know which one you loved the most so we can help you find the perfect home, in the perfect area and at the perfect price!