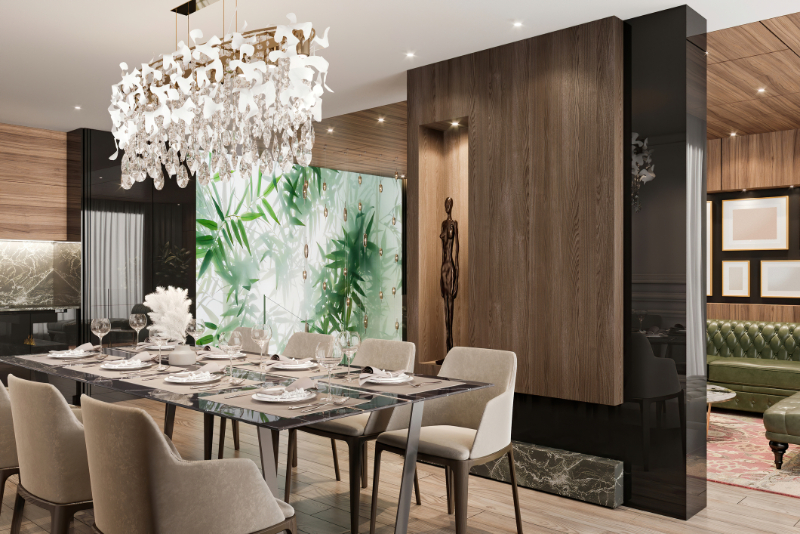 Create a truly memorable experience for your guests with a dining room that suits your hosting needs. These luxury dining room idea will help you get started.
Choose key pieces of furniture

The dining table serves as the focal point of the dining area. When choosing the right dining table, it's important to keep in mind that luxury is not determined by price, but by a combination of quality, design, and attention to detail. Here are some factors to consider when buying a luxurious dining table:

Size and measurements. Find out how much space you have in the dining room before choosing a table. Determining the right size will also help you determine how many chairs are needed. Depending on your needs, you may also consider getting an extendable table or one with built-in storage. An extendable dining table offers flexibility and can be stored easily without taking up excess space.

Shape. Dining tables come in many shapes and sizes. Round and square-shaped tables are ideal for smaller groups while a long rectangular table will accommodate more diners. Whether you envision your dining room as an intimate space for small gatherings or a banquet hall for entertaining business associates, the shape of your table should have enough space for your guests

Design. Choose a table design that fits with the rest of your home, particularly the adjoining rooms. The design should be easy to incorporate into the overall decor of the dining room.

Material. Tables made of hardwoods like oak, teak, walnut, and mahogany tend to be highly durable and are easy to clean and maintain. Natural wood can also be combined with glass, stone, mosaics, and metal for added effect. A glass top adds reflective brightness while a stone or marble surface will give your dining room a classic feel

Color. Choosing certain materials tends to rule out some color options, making it easier to make a decision. For instance, wooden dining tables are often limited to brown, taupe, white, and black while marble tables are available in shades of white, green, black, and red. Artificial materials like plastic and linoleum can be customized in just about any color.

In general, it's advisable to stick to basic colors like brown, black, or white instead of trendy bright shades. Neutral shades will blend in with the rest of your dining room decor more easily.

Once you have a dining table, you can choose chairs, runners, and linens that complement its design.

Bring in a few accent piece

Bring in a few accent pieces to strike up conversation among dinner guests. From hanging a painting above the fireplace mantel to placing a vase of flowers or potted plants in key areas, there are many ways to add the finishing touches to your dining room. Rugs can add visual interest to the floor and tie in color and pattern stories. These are available in a wide variety of materials and patterns ranging from classic to contemporary.

Install lighting fixture

Lighting can set the mood and ambience in a luxurious dining room. Fortunately, there are many design companies that offer innovative and artistic lighting solutions in Las Vegas. In general, warm white and golden light can help create an elegant but welcoming atmosphere. Dimmable lights can help you switch from bright to soft lighting while multiple sources of light can help create layers of illumination in the dining room.

Invest in flatwar

High quality flatware can help make your dining room feel more lavish. From lustrous gold and stainless steel flatware, to black silverware and lacquered wooden utensils, there are many choices in the market. In addition to the material, color, and finish, it's also important to consider the length, weight, and balance of each utensil for an enjoyable dining experience

Repaint the wall

One of the simplest ways to make your dining room more luxurious is to add a touch of color to the walls. Neutral colors have a timeless and elegant feel. If you want to use a bold color, adding lightly colored borders can prevent the dining room from being overwhelmed by bold tones. High-end wallpaper with the right pattern and material can also be a beautiful accent that can make a remarkable difference in any room.
FIND LAS VEGAS LUXURY HOMES TODAY
Let Realtor Anthony Romeo help you find a one-of-a-kind property in Las Vegas. You can reach him at 702.353.6759. You can also send your inquiries via email or fill out this contact form to get started.