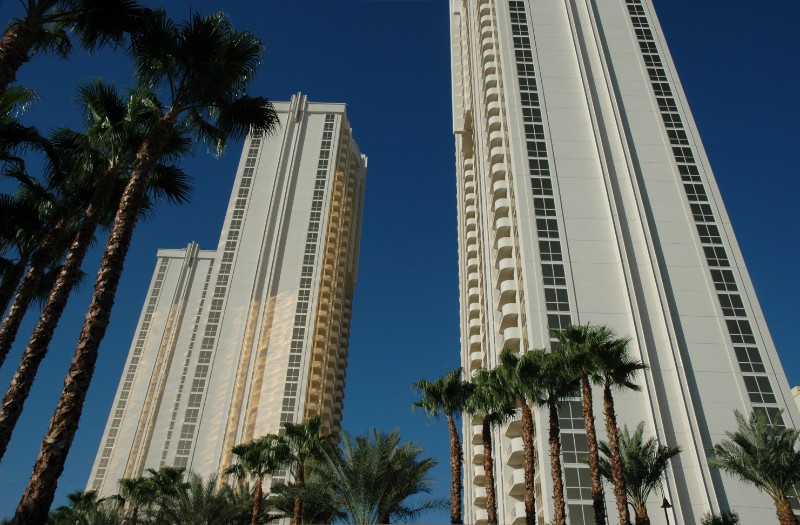 High-rise condos in Las Vegas offer residents and potential buyers a luxurious lifestyle like no other. With resort-style amenities and amazing views of the Strip, the surrounding urban landscape, and mountains, a high-rise condo is your portal to the ultimate Las Vegas lifestyle. However, remember that no two luxury condos for sale in Las Vegas are the same. As you search for the perfect one to purchase in Sin City, keep the following considerations in mind.
LOCATION
Do you want to live in Las Vegas' bustling city center or in a quiet neighborhood? High-rise condos in Las Vegas are often found downtown. Veer Towers, Panorama Towers, and The Signature at MGM Grand offer breathtaking Strip views, while Sky Las Vegas sits peacefully at the north end, away from the high-octane energy of the Strip.
AMENITIES
High-end condos are equipped with excellent features and luxurious amenities. Their convenience and enhanced security make them ideal for individuals who value the finer things in life. When searching for a condo, know your preferences and make sure the building offers the amenities you want. These may include gyms, sky lounges, swimming pools, spas, fitness centers, valet services, high-speed Internet, and media rooms, among others. Choose a condo that offers amenities that will enhance your living experience and suit your lifestyle.
VIEWS
With its majestic mountain backdrops, mesmerizing cityscapes, and iconic Strip panoramas, the Entertainment Capital of the World offers breathtaking views to residents and visitors alike. As you shop for luxury condos for sale in Las Vegas, choose a unit with a view that resonates with your preferences and desired outdoor vistas. Besides, whether you want a lively urban vibe or a serene natural setting, you can actually enjoy both as Las Vegas has numerous high-rise condos that could give you these panoramic aerial views.
PARKING
Parking options vary among high-rise condos in Las Vegas. Hotel condos such as MGM Signature, Trump Las Vegas, Vdara, Veer Towers, and Palms Place provide valet service only.
Meanwhile, high-rise towers such as The Martin, Turnberry Place, and Turnberry Towers provide valet parking and assigned parking spaces. These assigned spaces, known as "limited common elements," are owned by the HOA but designated for specific unit owners.
Metropolis, an Art Deco high-rise condo tower, includes parking spaces (usually two per unit) deeded to the condo, either adjacently or in a tandem configuration.
Consider how many parking spaces the condo allows and whether you need dedicated parking.
HOA RULES AND REGULATIONS
In addition to the upkeep of the property itself, homeowner's association (HOA) fees are charged for the maintenance of amenities. Make sure these fees are fair and ask if there are any inclusions, such as lawn care and common area cleaning. See if there are rules in place in the community, like noise and guest restrictions. Find out if common areas can be reserved in advance and – if you have furry family members – what size and number of pets are allowed.
BUY YOUR DREAM LUXURY CONDO IN LAS VEGAS
Ready to experience luxury living in Las Vegas? Let me show you the finest luxury condos for sale in Las Vegas. Alternatively, if you are looking for Las Vegas luxury homes, I can assist you in locating the ideal property. I'm Realtor Anthony Romeo, your trusted partner in all of your real estate needs in the area. Contact me at 702.353.6759 or via email.