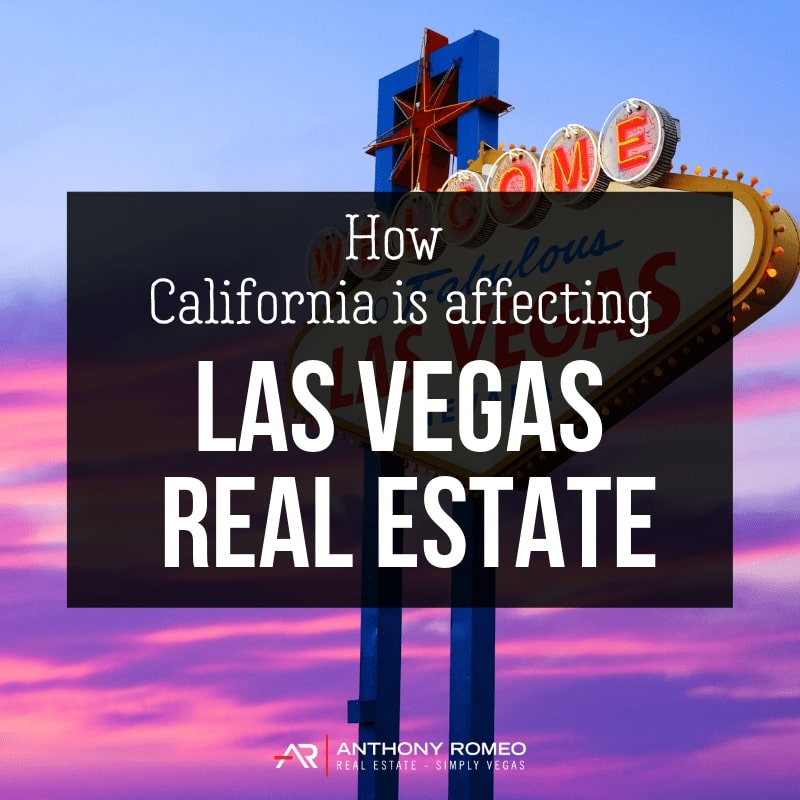 It's no secret that the Las Vegas real estate market is one of the fastest growing major markets. In fact, statistics show that even if a recession were to hit the rest of the nation, Las Vegas is in a good position to withstand any major effects. A big reason for the booming market in Las Vegas is because many Californians are continuously migrating to the area. California residents are putting their homes on the market, selling them for top dollar in a market that is very inflated and then taking the money they've made from the sale and investing it in Las Vegas real estate.
California is a beautiful state that attracts masses of new residents year after year, whether it's the incredible weather, the beaches, and scenery or the promise of opportunity – there are millions of people who would love to call California home. But, for every person who makes the move to California, there are many others that are ready to make the move away. Cities like Los Angeles, San Diego, and San Francisco are well known for the over-inflated pricing of homes and rentals, and recent statistics show that California has been losing more residents than it has gained for years. According to the US Census Bureau, total emigration from California to other states between 2006 and 2017 was 1.24 million – the third highest in the nation behind only New York and Illinois. Additionally, according to Zillow Group, Inc., the median home price in California soared 83% between 2012 and 2018, which means that buying a house in California has been unaffordable to all but 28% of the local population.
Other reasons that influence the decision for California residents to make the decision to move away from the Golden State include the heavy traffic and long commutes, the high rates of utility bills and taxes and more. Ultimately, California residents are moving out of the state in search of less expensive housing and quality of life that allows them to save some of their earnings versus spending it all on rent or a mortgage.
Ex-Californians are flocking to neighboring states like Nevada and Arizona, which are among the fastest growing in the country. The population in Henderson, NV has surged more than 20% in the last decade alone! Many of the master-planned communities in Henderson, that overlook Las Vegas, are a popular choice for migrants from the West, and Californians can account for about 70% of purchases in 2018.
Former California residents immediately see a shift in their quality of life after making the move to Las Vegas and buying Las Vegas real estate. Traffic is not as heavy, the shopping, dining, and entertainment are next to none, the Oakland Raiders will be making a move to Las Vegas as early as next year and the real estate is spectacular. Instead of opting for small fixer upper homes, buyers can tour expansive luxury properties in master planned communities with incredible amenities and finishes.
The downside of the influx of California buyers into the Las Vegas area is that it does pose some issues for local residents. California buyers have more cash to spend on a down payment, especially if they are using earnings from a recently sold California property. This means that local residents are often being outbid on properties or losing homes to California buyers who can come in with higher offers and terms and conditions that lead to quicker closings. Additionally, the city is working hard to keep up with the influx of new residents by building new schools, new home construction and more.
The Las Vegas housing market continues to remain steady and offers an incredible range of luxury properties for incoming buyers. The population is growing, the economy is strong, and the city is continuously working on various improvements and providing amenities that are very attractive to incoming residents.
The Las Vegas luxury real estate market is currently booming, and there is more demand than there is available inventory. As the Oakland Raiders move to town, as more Californians make the move to Las Vegas and as the economy continues to remain strong prices will only go up and demand will be greater. If you are interested in exploring Las Vegas luxury real estate or buying a new house in one of the premier communities, then please contact us so we can help you find the perfect place to call home.