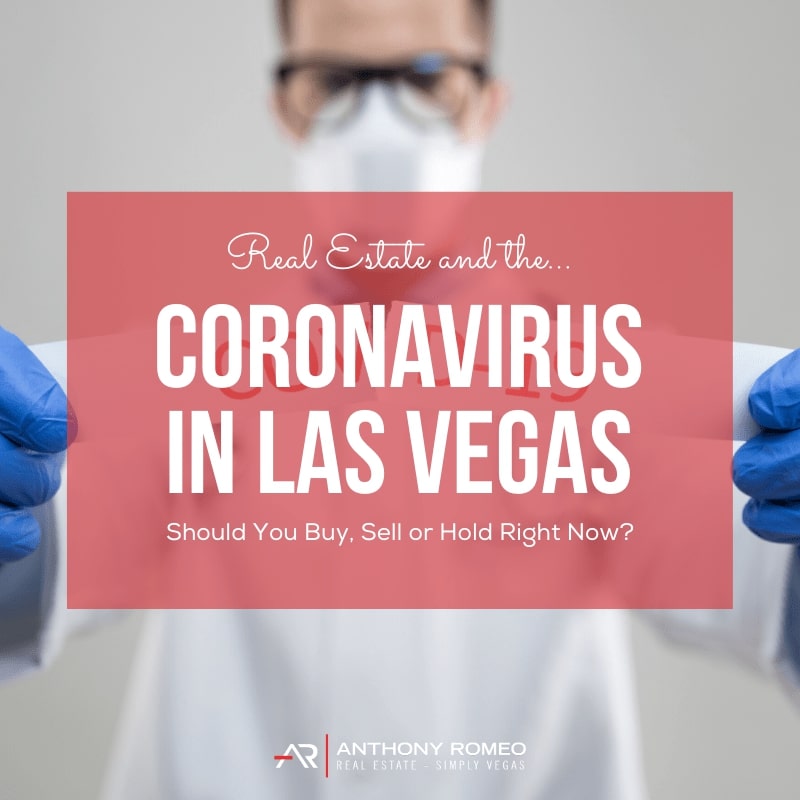 As the coronavirus outbreak continues to spread throughout the country, and the world, many are concerned as to what the potential immediate and long-term effects will be on our economy and the real estate market. Historically, the spring season is when the residential real estate market in Las Vegas picks up speed after a winter slow-down, and the summer months also usually see an uptick in activity. However, as the coronavirus spreads, we're seeing a slowdown in tourism, travel and various other business sectors as people make an effort to stay away from busy venues and limit their exposure to public gatherings. Currently, there have been five reported cases of coronavirus in Nevada.
The biggest concern over the impact of coronavirus is how it is going to affect small business owners and the hospitality industry, which is a primary source of business in the Las Vegas area. Las Vegas has already experienced a drop in tourism as airlines are canceling flights and tourists are postponing their vacations. Economic experts are urging residents and business owners to prepare for a slow-down, but not to panic. The impact of coronavirus on the real estate market is not expected to be substantial, mainly because as it currently stands the Las Vegas market is very healthy. Another issue with this global pandemic is that when people are fearful, they tend to hit pause and abstain from big decisions and big purchases. Consumer confidence may take a hit, which could potentially result in a short-term impact on residential buying activity.
There are certain changes that consumers can expect from the real estate market as the country works to contain and minimize the spread of coronavirus. The Federal Reserve dropped interest rates by .05%, down to a very low 1.25%, which is meant to incentivize buyers to enter the market and receive incredible rates on a new loan. In fact, many existing homeowners are also encouraged to refinance their existing loans in an effort to secure a lower monthly payment. Traditional real estate practices, like hosting broker's opens and open houses, could become scarce as agents and consumers make an effort to protect themselves. In an effort to keep business as usual consumers will likely view more property video tours and agents will utilize other creative methods that will allow buyers to virtually tour a house that is for sale without leaving the comfort of home.
Sellers who are motivated to list their properties for sale can benefit from this experience because they are more likely to work with serious buyers versus individuals who are only interested in touring an open house for fun. Additionally, sellers can also enjoy the benefits of getting top dollar for their property since interest rates and inventory are low, which will translate to competition among serious buyers. Buyers and sellers should take comfort in the fact that the real estate industry is a modern business that has made great leaps in the last couple of years with a myriad of tools that allow agents to conduct business remotely with clients. This means that a property can be sold without the buyer and seller ever being in physical contact.
So, what does all of this mean for Las Vegas residents – should you buy, sell or hold onto real estate amid the coronavirus outbreak? While we are noticing that there is definite concern among Las Vegas buyers and sellers about coronavirus as of right now business is still going on as usual. If you have any questions about the value of your home, how our team can market and bring buyers to your property or how we can help identify the perfect Las Vegas property for sale please don't hesitate to contact us. Rather than panic, we encourage our clients and all Las Vegas residents to follow CDC guidelines and take preventative measures to remain healthy.
Please keep in mind that our team is comprised of real estate experts with a deep understanding and extensive knowledge of the Las Vegas market – we are not medical professionals and we are not giving out medical advice. Our goal is to provide our clients and community with information and tips on how to navigate the local real estate industry, and we are here to answer your questions and guide you through selling, buying and investing in Las Vegas real estate.