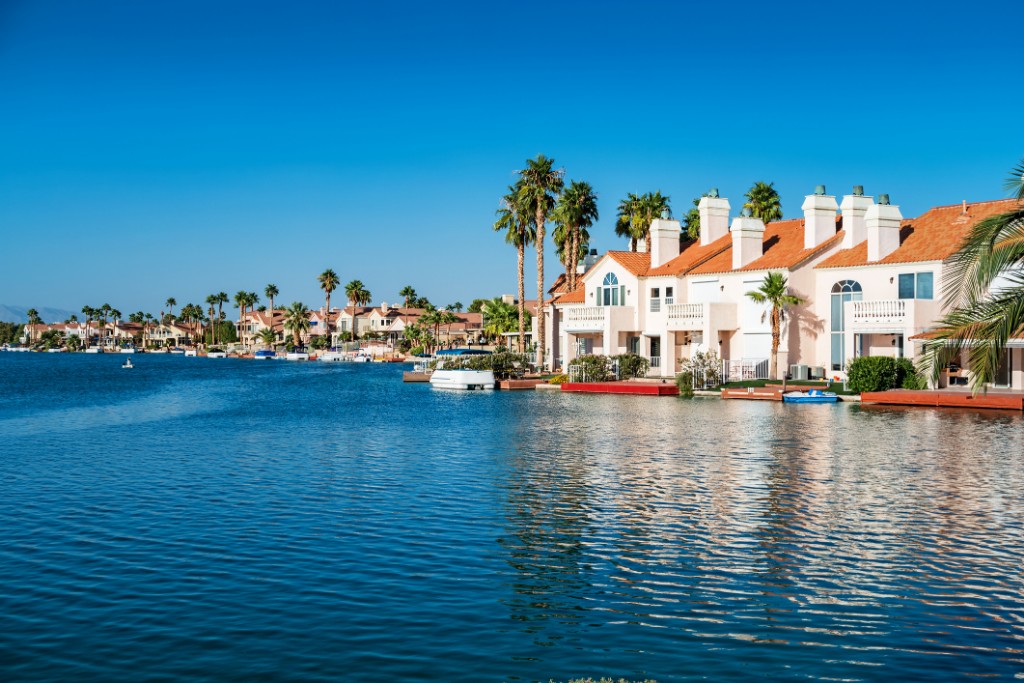 Las Vegas is a marquee destination, not just for its star-studded casinos and luxury resort hotels but also for its excellent selection of luxury real estate. Its rapid development as an international gaming and entertainment hub has brought immense wealth to the area. With the tourism industry hinged on this, many of the elite who have frequented Las Vegas have decided to make their stay here permanent or, at least, purchase properties either as vacation homes or rentals. It's no wonder then that lavish mansions, exclusive golf estates, and master-planned communities have been built throughout the valley.
Luxury homes in Las Vegas are some of the finest properties you'll find in the country. And there's an array of options at your disposal. If you're eyeing a new home in this part of Nevada, there are a few things you need to carefully take into account.
AT A GLANCE:
Get a good grasp of the local market
Explore the top neighborhoods for luxury homes
Visualize your preferred lifestyle in Las Vegas
Don't put too much stock into photos
Leverage your agent's connections
Take into account construction timelines and potential delays
Think about future changes and upgrades early on
Buy with cash to close in on a deal faster
Find the perfect timing
Utilize tax breaks in Nevada
Live the good life in Las Vegas, Nevada
1. Get a good grasp of the Las Vegas market
Based on data from the local Multiple Listing Service, the median home listing price is around $400,000 as of writing — a 24% increase year-over-year. Some of the best homes in the city go well beyond that price point. Currently, there are over 130 multi-million-dollar homes up for sale throughout Las Vegas.
At the minimum, these highly coveted properties typically come in a four-bed and four-bath setup with 4,000 to 5,000 square feet of lot space. These homes may also come with a private pool and spa, a multi-car garage, covered patios, granite kitchen islands and countertops, and a host of other top-tier features. Expect to spend anywhere from $1.9 million to well over $8 million to own your piece of luxury real estate in Vegas.
Even with a wide array of options available, multiple buyers often compete for the same listing. That's where a seasoned local real estate agent's help is invaluable. As your partner during negotiations and throughout the buying process, they can give you the upper hand in bidding wars and boost your chances of getting the property you're after. Consider having one before making your move in the vast world of Las Vegas real estate.
2. Explore the top neighborhoods for luxury homes
To find the best luxury homes in Las Vegas, it's essential to familiarize yourself with the top neighborhoods in town. Consider the following exclusive communities.
The Ridges, Summerlin
Facing the sandstone facade of Red Rock Canyon is the exclusive community of The Ridges. This gated enclave contains several upscale neighborhoods that fit a range of lifestyles and preferences.
Luxury homes throughout this neighborhood adhere to an overarching motif and architectural design that blends seamlessly with the desert environment. The most prized properties have gorgeous hilltop views of the Vegas cityscape to the east and the mesmerizing desert landscape to the west.
Residents are never far from an 18-hole golf course, a community gym, and a host of public parks. As part of the larger master-planned community of Summerlin, commercial areas like Downtown Summerlin and a variety ofupscale restaurants and resorts are easily accessible.
West Sahara, The Lakes
Located within the resort-style community of The Lakes, this excellent neighborhood is ideal for buyers who prioritize accessibility and a gorgeous waterfront location. Beyond the boundaries of the community is a handful of retail areas, business parks, restaurants, and grocery stores that make life in The Lakes exceedingly convenient.
The most coveted homes in the neighborhood face the crystal blue waters of the man-made Lake Sahara. In addition, a majority of West Sahara homes come with amenities befitting a luxury lifestyle, such as temperature-controlled swimming pools, well-adorned outdoor kitchens, and state-of-the-art stainless steel appliances.
Eagle Hills, Summerlin
Wide tree-lined streets and proximity to several green open spaces epitomize life in Eagle Hills. As one of Summerlin's best neighborhoods, Eagle Hills has easy access to plenty of parks, tennis courts, baseball fields, community pools, and golf courses. Retail stores and specialty services are typically a few minutes away.
Homes in Eagle Hills sit on spacious lots and benefit from plenty of shade from nearby trees. Privacy and seclusion are the key factors that will likely appeal to discerning buyers. Security is guaranteed as guards are stationed in key entry points of this gated community.
In addition, families with kids will appreciate the handful of schools available on the eastern portion of Eagle Hills. Shenker Academy, Ernest A. Becker Middle School, and William R. Lumis Elementary are some of the educational institutions in the area.
Southern Highlands
The Southern Highlands is a sprawling 2,700-acre master-planned community located on the southern tip of Las Vegas. At the core of this stunning community is its eponymous golf club — frequently touted as one of the best golf courses in Las Vegas. The contrast between the surrounding desert scenery and the golf course's green roughs and fairways offer a stellar backdrop that not many neighborhoods can boast of.
Several parks situated just outside Southern Highlands appeal to the more adventurous residents who enjoy the outdoors. A clubhouse and community area is often the venue for a farmer's market and other local events.
Southern Highlands is composed of several smaller neighborhoods. For buyers who are after scenic desert views and a higher degree of privacy, Augusta Canyon is a good neighborhood to explore. Olympia Ridge, meanwhile, is known for its spacious and well-appointed homes.
Anthem
Situated near the edge of the Las Vegas Valley is the exclusive community of Anthem. This master-planned development covers over 4,700 acres at the base of the towering Black Mountain (part of the extensive McCullough Mountain Range). Some of the finest properties in this gated community sit on generous lots, ranging from 4,800 square feet to over 7,600 square feet.
With parks, trail paths, award-winning golf courses, and a serene atmosphere, Anthem is a great community that fits a range of home buyer preferences. The community's crown jewel is the Anthem Country Club, an exceptional setting for family-friendly gatherings and special occasions and events. Apart from the par-72 championship golf course, there's also a pool, fitness gym, as well as tennis and pickleball courts.
3. Visualize your preferred lifestyle in Las Vegas
Envisioning your ideal luxury home naturally involves listing down priorities and must-haves. There is a plethora of factors to consider, from the varying preferences of other household members to your overall real estate goals.
Is proximity to golf courses and outdoor attractions essential? What about the top casinos and resorts in the area? Is there sufficient space in the home to entertain extended family and guests? Are there any specific amenities you're looking for?
If you're living with your partner or your family, you also have to take into account their preferences and special hobbies. The sooner everyone is on the same page, the faster you can find a luxury home in Las Vegas that fits your needs.
4. Don't put too much stock into photos
There's no shortage of listing photos and short videos that can show you the many features of a luxury home. As a buyer, you have to understand that some properties — especially large homes or structures that have unconventional designs — don't look their best in photos or other forms of digital media.
In such cases, nothing beats seeing the house with your own two eyes. Several luxury homes in Las Vegas are better experienced in person when you can appreciate the craftsmanship and scope of the property intuitively. And, as you go through the various rooms, your agent can offer expert opinion and guidance should any positive or negative detail catch your attention.
It's also worth mentioning that a quick look at Google Maps can also come in handy. A bird's eye view of the home and its surroundings can give you a better idea of what's fairly accessible or relatively far off from the neighborhood.
5. Leverage your agent's connections
Not everything can be found with a simple Google Search, however — especially when it comes to luxury homes.
Some sellers opt to market their homes discreetly, often advising their own agents to avoid public listings. Luxury real estate is often sold through this low-profile approach where knowledge of certain listings is limited to a select few agents and clients.
This is why it pays to work with a local agent in the area. The professional you decide to work with is highly likely to be privy to a number of privately sold homes. Beyond immediate connections, your agent can always make a few more calls to establish key relationships that will bring you closer to a specific property you may have in mind.
6. Take into account construction timelines and potential delays
There are a few relatively new developments on the rise throughout Las Vegas, from master-planned communities to smaller private neighborhoods. Lennar, Century Communities, Toll Brothers, and Woodside Homes are some of the developers who have made significant investments in the valley.
If you're planning to purchase new construction, make sure the timeline of completion aligns with your real estate goals. While builders and developers always take the necessary steps to finish work in a timely manner, unforeseen delays can extend the initial time frame.
As a buyer or investor, it's crucial to consider how long you're willing to wait when delays occur. More often than not, you won't want your money to be staying dormant for too long, especially when there are other lucrative investment opportunities out there.
7. Think about future changes and upgrades early on
[PHOTO]
Whether it's in Las Vegas or elsewhere, luxury homes generally apply the latest home design concepts and have exceptional amenities. But while outstanding features are almost always a given, it's wise to think about possible future changes and upgrades early on. Doing so helps increase equity and ensures that the home won't go out of style over time.
Examining a luxury property also becomes an exercise in determining whether or not a possible remodeling idea can align with the overall home theme or design. Changes may also help address additional household considerations down the line.
For instance, the size of certain rooms (bathroom, family room, outdoor deck) may be sufficient in the short term but that may change when a new family member arrives or moves out. A similar consideration may apply when choosing between a single-story and two-story house.
Then there are the environmental factors that are increasingly becoming a point of concern in the real estate industry. Luxury homeowners often revamp a number of areas around the home using reclaimed materials like used lumber from old homes and even sections of an airplane. Windows and appliances are usually replaced with more energy-efficient ones, as well.
8. Buy with cash to close on a deal faster
The best luxury homes in Las Vegas are often snapped up with cash offers. In the time it takes for the average buyer to put forward an offer and begin negotiations, the eager luxury buyer already has a seller on the brink of accepting the cash offer.
Once you find that dream luxury home, it's imperative to secure a deal as fast as possible. Aside from outbidding competing buyers, there are other perks stemming from offering spot cash:
Without a mortgage and the subsequent monthly payments, you can take advantage of immediate equity from the property.
Some sellers will consider a slight discount on the purchase price — giving you an even better deal.
The home purchase is not subject to interest rate fluctuations and the ups and downs of the market.
The closing process is streamlined and the transaction is concluded much faster than usual.
9. Find the perfect timing
For most of the country, real estate activity is abuzz during summertime. With sellers mostly done with their spring cleaning and the weather being quite pleasant, more buyers are keen to get outside and see what the market has to offer.
In Las Vegas and the rest of Nevada, however, the desert setting makes summers extremely hot. Residents would much rather stay in the cooler confines of their homes than go house-hunting.
If you're planning to see as many homes as possible in Las Vegas, house hunting during the fall is the best course of action. The climate is significantly milder and the lower temps are more tolerable. Home sales prices are also generally higher during this season, which means there are more homes available in the market.
On the other hand, if a lower price tag is a major factor in your buying decision, consider exploring the market during the off season — between December and April. Speak with your agent to get the best advice on real estate timing in Las Vegas.
10. Utilize tax breaks in Nevada
Known for its "tax hospitality," the state of Nevada offers property owners and residents plenty of tax breaks. This is one of the key reasons why many investors seek out properties in Las Vegas and Nevada in general. Consider the following tax benefits:
If you opt to take out a mortgage on a home purchase, interest payments can be tax-deductible by up to $1 million. Make sure to itemize the deductions on your tax returns; otherwise, the tax break won't apply.
Once you own the home, you can take advantage of reduced real estate taxes. Again, ensure that property taxes are listed as itemized deductions. Calculating the total tax-deductible is based on the dues you paid during the taxable year. This serves as an incentive to people who address tax liabilities early.
Married couples who sell their Las Vegas home and file jointly can exclude up to $500,000 in profit from taxation. One of the key requirements for this capital gains tax exclusion is that the home must have been occupied for a minimum of five years before the sale. Two of those five years should be spent using the home as the primary residence. Additionally, couples can choose to file and benefit separately but the tax break would then be set to a $250,000 limit.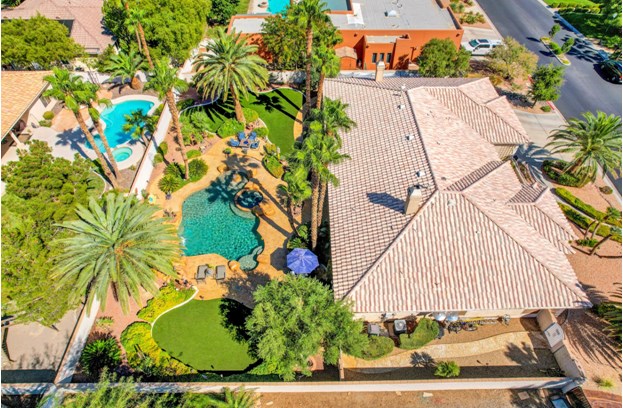 Live the good life in Las Vegas, Nevada
If you're searching for luxury homes in Las Vegas, make sure you're receiving top-tier real estate advice. Let me, Anthony Romeo, be your expert guide as you explore your options in the Entertainment Capital of the World.
With over 20 years of experience as a Realtor in Las Vegas, I've assisted a diverse range of clients in finding the best home that fits their lifestyle. Plus, with my perspective as a long-time Las Vegas resident, you'll have exclusive access to my in-depth knowledge of various neighborhoods.
Allow me to help you find the right investment that aligns with your family priorities and overall financial goals. You can reach out to me by phone at 702.353.6759 or send me an email at Anthony(at)RomeoLuxury(dotted)com.