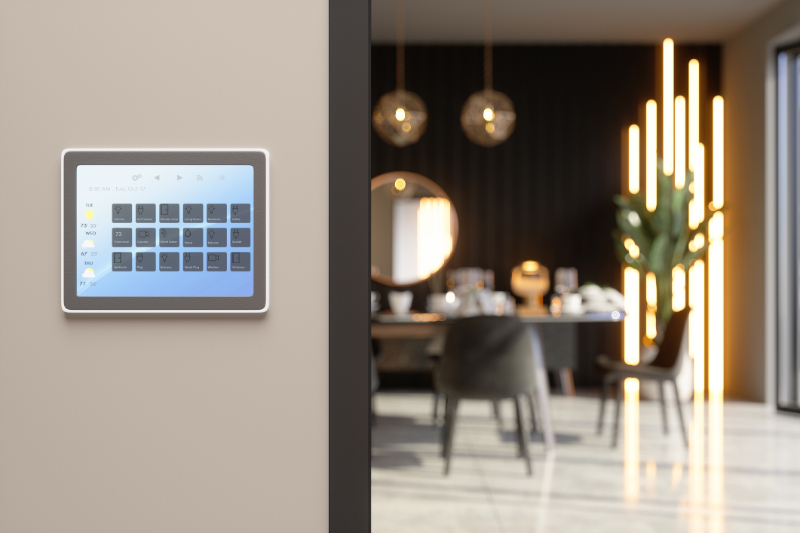 From smart home technology to 4k surveillance, security systems for your luxury home will help keep your household safe and sound.
Smart home integration

Integrating smart home components with your home security system will give you a higher level of control over security functions throughout the property. For example, smart home integration helps you make sure that all your doors are locked without having to get up and physically check all the smart locks in your home.

It also lets you view surveillance video remotely from any registered or verified mobile device. Smart home integration will provide notifications when the security system detects motion or heat on the premises. The system can also send an image of the person to your app or email so that you can verify guests' identity before granting access.

You'll be able to see who's knocking on your front door and decide whether you should unlock it for them while you're at work or traveling to another city. This feature is particularly helpful if you need to provide access to housekeepers, contractors, pet sitters, and other staff who need to enter the property when you're not present.

Layered security

Layered security will help fortify your home. This takes a network approach to home security with several components offering varying levels of protection. Each layer provides a unique type of security for your home and typically has overlapping redundancies in the event that one component fails. So instead of relying on just one specific type of security, you have different layers on top of one another. If one fails, then another layer is there to provide security.

Advanced security cameras

The next generation of home security combines physical hardware with technology for integrated security solutions. This includes 4k security camera systems that are on par with the value and size of your home. It makes use of cutting-edge technology to further enhance not just security coverage, but the convenience of surveilling your home.

4K Color Night Vision

Crimes committed by adults typically peak between 10 p.m. and 12 midnight with many burglars taking advantage of the dark with the belief that video surveillance won't capture accurate footage of them. This makes color night vision a must for high-end surveillance systems. It offers an additional layer of security coverage for theft and break-ins.

The most advanced color night vision cameras have image sensors that are ultra-sensitive to light, which lets them produce full-color images even in low-light conditions. For example, 4K color night vision can make it easier for the police to identify important details such as vehicle color or an intruder's hair and shirt color.

4K Digital Zoom

Some security camera systems have a 4K digital zoom lens that offers more precise surveillance for larger properties. This type of surveillance camera lets you customize the camera's view by zooming into a specific room or area without compromising video quality. This makes it easier for you or your security team to pick up on details and small movements that you would otherwise miss in an expansive area such as the backyard or the living area.

8-megapixel Image Sensors

Security cameras with 8-megapixel image sensors with 1080p resolution are known to offer a high level of coverage. The sharpness provides a tremendous amount of detail when digitally zooming in the camera or while reviewing footage. Security footage with ultra-high definition makes it easier to make out facial features, objects, and license plates.
WORK WITH A LAS VEGAS REALTOR
Explore Las Vegas luxury homes with leading Realtor Anthony Romeo. Get in touch with him at 702.353.6759, send inquiries via email, or fill out this contact form to gain access to exclusive listings.