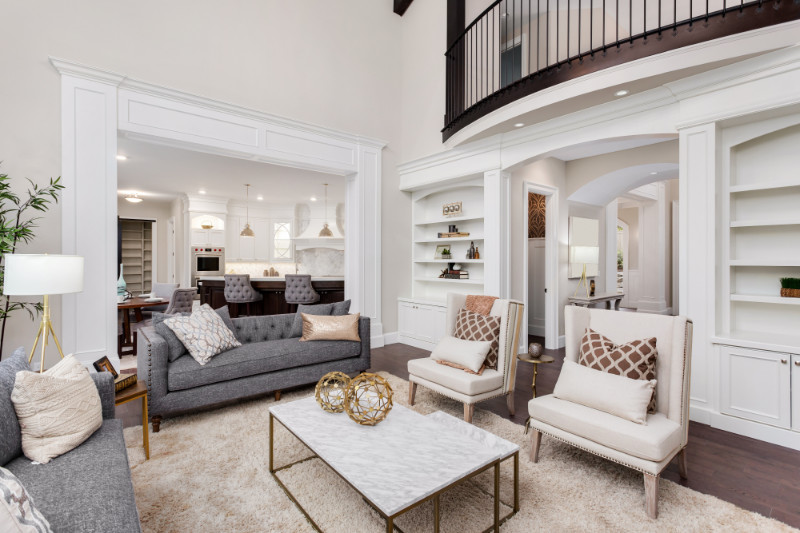 Aside from its prime location, square footage, and million-dollar home values, one of the elements that define a luxury home is its amenities. From high-end home automation systems to state-of-the-art workout areas, it's the amenities that put the luxe in luxury living.
See the list of the most sought-after luxury home amenities below:
OPEN FLOOR PLANS
Having an open floor plan in a luxury home offers endless possibilities. It maximizes space, allows more flexibility, and lets in more natural light. An open floor plan also gives the home a modern and airy feel. Open floor plans are also perfect for entertaining guests. With a wall (or several walls) out of the way, homeowners and their guests can easily move from one space to the other.
INDOOR-OUTDOOR LIVING
Wondering how to expand a living space without creating an additional room? An indoor-outdoor area provides the best solution. This luxury home feature extends beyond the dining room or living room as these spaces are only separated by a glass wall, a sliding door, or a folding door. Just like an open floor plan, having an indoor-outdoor feature in a luxury home allows for seamless gatherings and get-togethers.
SMART HOME TECHNOLOGY
For the comfort, convenience, and functionality it offers, it's no wonder that smart technology has become one of the top features of a luxury home. With the touch of a button, one can control the lights, adjust the temperature, or pull down the blinds.
Smart technology usually also comes with eco-friendly features. A smart thermostat, for example, saves energy by automatically adjusting the temperature depending on the home's heating or cooling system.
GOURMET KITCHENS
A spacious and well-appointed gourmet kitchen is a must in any luxury home. The kitchen is the heart of a home and the place where everyone comes together. A gourmet kitchen typically includes custom cabinetry, the finest finishes, and the highest quality appliances.
SPA-LIKE BATHROOMS
Another must-have in a luxury home is a spa-like bathroom. Since it is one of the most-used rooms in a home, the bathroom must also act as a place to unwind and relax. Spa-like bathrooms have a look of luxury, with their textural elements, colorful stone, and ambient lighting.
ENTERTAINMENT AND EXERCISE AREAS
Luxury homes take recreation and fitness to a whole new level. Home theaters and game rooms are the most common recreational amenities in an upscale property. As for fitness, some luxury properties will have state-of-the-art gyms, outdoor basketball courts, tennis courts, and resort-style swimming pools.
WALK-IN CLOSETS
The walk-in closet in a luxury home is more than just a space to store clothing. It's a customized area that's both functional and personal. Having an island in the walk-in closet makes a huge difference, as well. Apart from providing additional storage through its drawers and shelves, it also offers extra counter space.
Sell your Las Vegas luxury home for top dollar with real estate expert Anthony Romeo. A Las Vegas Realtor for the past 20 years, Anthony knows the area's thriving luxury real estate market like the back of his hand. Reach out to Anthony Romeo Real Estate at 702.353.6759 or send him an email here.