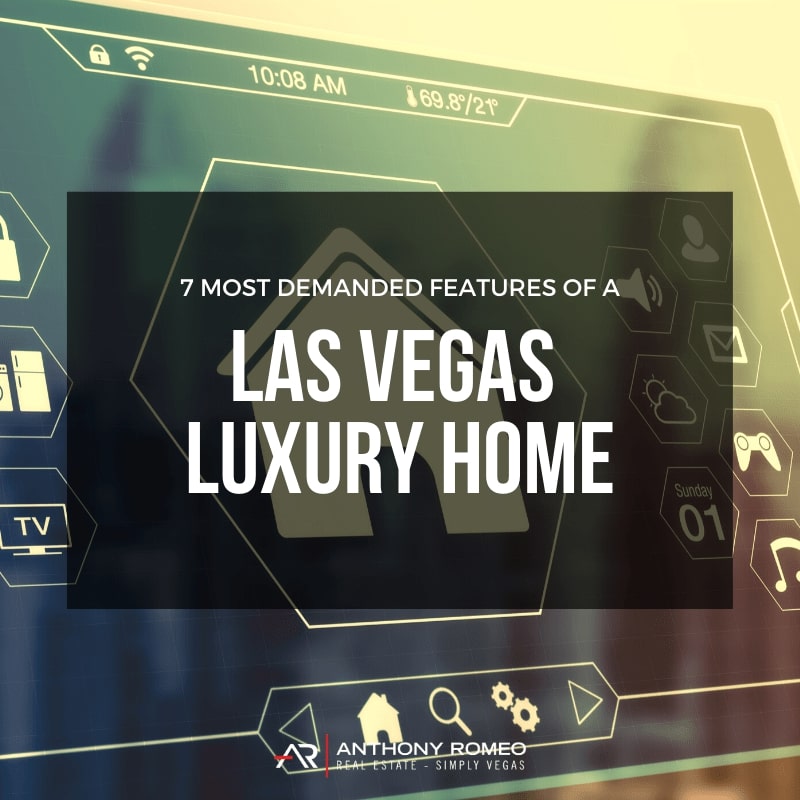 Las Vegas luxury homes are often highly personalized so that an owner's preferences and expectations can be met. While many high-end buyers will go to great lengths to ensure their homes provide them with whatever they desire, there are certain elements and features that are high in demand in Las Vegas luxury homes.
1. Full-Size Sports Courts & Swimming Pools
A beautifully designed, sparkling swimming pool is an absolute must-have in a Las Vegas luxury home. There's nothing better than cooling off from the desert heat with a dip in the pool or hosting a large outdoor gathering with friends and family on a beautiful weekend. Full-size sports courts are also very popular among high-end buyers as they eliminate the need to leave the house to go to the gym, and they also provide the homeowner with another opportunity to host and entertain guests.
2. Smart Home Technology
Modern homeowners in Las Vegas want to have control over every detail in their homes – anything from the temperature, the lighting, the garage door, and their appliances. As AI (artificial intelligence) personal assistants continue to become more popular and the growing Internet of Things, there has been incredible growth in the past few years when it comes to smart home technology. Some innovative high tech appliances that homeowners enjoy in luxury Las Vegas homes include smart refrigerators that can send a shopping list to your phone, smart cooktops that can display a recipe on their surface, smart thermostats that can be remotely controlled, smart hubs that can control the lights throughout the home and so much more. Buyers in the luxury market are looking for homes that are equipped with the technology that allows them to control certain aspects of their home remotely and in person.
3. Outdoor Living Space
The desert heat in Las Vegas means that many of us prefer to stay cool indoors with the air conditioning on full blast, but when the weather is milder local residents want to be able to enjoy the stunning desert sunsets and the great outdoors. Whether the backyard features a welcoming seating area around a fire pit, a cozy lounge area with a big-screen TV or a fully equipped outdoor kitchen for entertaining, outdoor living space is an absolute must in a luxury Las Vegas home. A completed outdoor living space takes entertainment to the next level, which is very attractive to luxury buyers. Some of the finest luxury homes in Las Vegas seamlessly connect the indoor and outdoor living areas with large glass doors and windows so space can be opened or closed based on the weather.
4. Spa Worthy Bathrooms
A relaxing soak in a spacious tub can be pure bliss after a hectic day, which means that high-end buyers will want at least one bathroom in the home to offer features that allow them to recreate a zen-like spa experience if they want it. Some prominent amenities you can find in luxury Las Vegas homes include an indulgent soaking tub, a steam room, a walk-in shower as well as appliances where they can store things like expensive skincare, cold towels or refreshments.
5. Sustainable Living
Luxury buyers, and millennials especially really care about preserving the environment as well as saving money by being more energy-efficient. Some green features that are prominent in luxury Las Vegas homes include solar panels, tankless water heaters, utilizing sustainable materials, installing sustainable and energy-efficient appliances, LED lighting, low-flow water fixtures, natural landscaping and more.
6. High-End Kitchens
The kitchen is the heart of the home and where most people spend the majority of their time. An upscale kitchen should be functional as well as sophisticated and aesthetically pleasing. High-end buyers often enjoy entertaining friends and family as well as hosting large gatherings, which means they look for plenty of counter space, an eye-catching island, extensive storage, modern appliances and maybe even multiples of certain appliances like refrigerators or ovens.
7. Spacious Closets
A cramped closet is simply not an option when it comes to modern luxury properties. High-end buyers are looking for homes that offer expansive closets with dedicated space for shoes, collectibles, accessories, clothes and any other miscellaneous items. A well-designed closet is not just for putting away belongings, it should also be a pleasing private retreat.
Luxury buyers are looking for the best home features that money can buy – they want good craftsmanship, high-quality materials, comfort, convenience as well as personalization to meet their unique wants and needs. If you're looking for luxury properties in Las Vegas please contact us. We look forward to showing you around the incredible communities in Las Vegas and helping you find your dream home.